Known for its red-tinted peaks and sun-kissed hot springs, New Mexico is a state with plenty to explore. From outdoor adventures that could never be done justice with just a photograph to art that makes an impact for the ages.
From little mom-and-pop restaurants with the best dishes in the West to historical landmarks that stand proud all these years later. New Mexico's history is long and dated, and it is pleased to still hold all of the past that can never be replaced. This makes the state unique and definitely, something you'll want to see to embrace.
New Mexico is the perfect place to find some comfort in a home away from home. And as a state so diverse, there's no talking about NM without mentioning what makes each town so special. Little restaurants with specialties to die for and big attractions with raving reviews.
Below we've compiled a list of the 15 most charming towns in New Mexico to get you seated for your next big expedition.
Most Charming Small Towns in New Mexico
Table of Contents
1. Taos
Take a load off in Taos! Taos, New Mexico, has long since been one of the most charming towns in the southwest and continues to impress travelers from far and wide. Although there are a couple of title pieces Taos is known for, there's no talking about the city without mentioning the art.
Taos has a rich and diverse cultural scene that dates as far back as the town's history. Here, contemporary comes alive as museums and independent art galleries are open to express what truly makes Taos a treasure.
And Taos is also home to the iconic and well-loved San Francisco de Asis Mission Church which has been a muse to photographers and artists for generations.
All of this and more are wrapped in the genuine beauty of New Mexico. Taos is nestled by the Rocky Mountains and the Rio Grande Gorge with its accompanying iconic bridge. This is a vast expanse of natural beauty, ready to be explored.
Whether you're looking for your next big inspiration or just a little bit of fresh air, Taos is here to accommodate. Stay with the exciting backpack culture of the West or spice it up with a bit of luxury. Taos is the perfect place to choose your adventure.
2. Red River
If you're looking for a little bit of that outdoor adventure charm, look no further than Red River! Red River is an oasis of trailblazing activity. Here you can hike, camp, fish, raft, OHV, hunt, bike, horseback ride, and so much more.
During the summer, the Red River is a popular site for spending your days in the great outdoors. It even has trails for all kinds of explorers.
Sightseeing treks anybody can walk on strenuous hikes that make you sweat. And to top it all off, the camping sites are particularly well-loved as travelers come to spend their night under a sky full of stars.
Red River is also known as one of the best resort towns in the area. Bordered by sloping mountains of beauty, this is the prime spot to go for your winter wonderland.
Ski and snowboarding enthusiasts will love the well-groomed slopes, and patrons will enjoy some of the best ski lodges in New Mexico. Nestle up with a hot chocolate in the lounge while the family tears up the slopes for a family vacation no one is soon to forget.
3. Chimayo
For the culture buffs! Chimayo is a beautiful expanse of New Mexico history, known predominantly for its preserved architecture.
The town is set around embracing the natural red and clay beauty that is New Mexico. This town is typically known for the breathtaking wonder that is Santuario de Chimayo.
This is a catholic church and pilgrimage destination. Santuario de Chimayo is open from 9:00 a.m. to 5:00 p.m. daily for guests. As a shrine, active church, and national historical landmark, it is an attraction that invites over 300,000 visitors yearly.
Chimayo is also available for any number of outdoor activities. Santa Cruz Lake is an attraction that invites from far and wide.
Many visitors will recommend camping, so your group can watch the sunrise and sunset reflected on the water, giving you that much-needed breath of fresh air you just can't get from the big city.
On rainy days, check out the Chimayo Museum for some indoor fun, or continue the experience brought by Santuario de Chimayo at the Santo Nino Chapel, another catholic church. Chimayo is a city bursting with soothing energy and small town charm.
4. Aztec
As a bustling, lively city rooted in the Puebloans, Aztec is one of the prime locations for history in New Mexico. The Aztec Ruins National Monument is a beloved location and an enriching experience for all those who enter. Although the name 'Aztec' is misleading, this is actually the historic location of the ancestral Puebloan people.
This world heritage site speaks of ages past, with the original infrastructure in place to feel like the years are spinning backward. Here, visitors can join a tour and get a glimpse at what makes Aztec so unique.
There are 900-year-old structures still in place and the breath of years of change through every entryway. Aztec Ruins National Monument is an attraction everyone should see once.
The city of Aztec itself is the kind of city relaxation is found in. Many of the locals have been there for generations and have the best recommendations for restaurants and activities.
The food here is unique, rich, and, most importantly: delicious! And the Aztec Museum and Pioneer Village is a highly-rated attraction all ages will love! The city of Aztec is just as excited for you as you are for the trip.
5. Roswell
For more of a niche "charming" option, Roswell is a name that sounds strike a familiar bell. Popularized by the rumored alien crash of 1947, Roswell has kept its name to fame and embraced the 'we come in peace' message. There are alien landmarks, alien cafes, alien bookstores, alien tours, and so much more!
Although this town is relatively well-populated, Roswell still has that distinct unique charm that marks a good time. Uncover the mystery with the riddle of Roswell, or live out your favorite scene from either of the Roswell-based TV shows!
If you're looking to start a bucket list, the International UFO Museum and Research Center is a favorite! Experience exhibits like no other and marvel at some alien art. Or, take some time to find your outer space muse at the Roswell Museum and Art Center, where color comes alive! And of course, no New Mexico town is complete without a little time spent in nature.
The Bitter Lake National Wildlife Refuge is teeming with life in an altogether relaxing atmosphere. Travel today to figure out firsthand what makes Roswell so out of this world!
Also Read: The Must-See Route 66 Attractions
6. Santa Rosa
Water's as blue as the sky! And as clear as them too! Santa Rosa is a popular New Mexico town simply for all the natural beauty it settles on. None as breathtaking, perhaps, as the famed Blue Hole.
The Blue Hole is an extraordinary scuba and snorkeling experience. From 8:00 a.m. to 8:00 p.m. every day, this spot is open to all with crystal clear waters that speak of endless relaxation.
Dipping down to 81 feet for scuba diving, there is plenty to enjoy for all ages here! Scuba with the adventurers and cliff jump with the thrill-seekers! The Blue Hole is mother nature's gift to New Mexico.
And for a day with a bit more bounce, check out Park Lake! This is a water amusement park with all the bouncy slides you can ride! Settled in the pristine New Mexico water, this is a great place to bring the whole family. Maybe even try the family's hand (or foot) at paddle boating.
Race each other around the lake, or simply cruise and glide over the pristine blue waves. Kids will be able to get all of that energy out with a fun day in the sun, and adults can get a well-needed play day.
Maybe even check out the Route 66 Auto Museum the next day for the true love of all things racing. This is where car enthusiasts can see stunning memorabilia and pristine condition relics. From water parks to motor engines, Santa Rosa is a place for everyone.
7. Questa
Time for a quest in Questa! As a quaint, outdoorsy, naturally stunning stretch of land, Questa has a charm like no other. The preserves and wilderness areas aren't just protected; they're beloved and genuine staple marks of the town surrounding them.
This is the kind of place where you can find a restaurant that will remember you by name and locals whose stories you'll never forget. And that's just the ambiance! The actual scenery itself is enough to fill up your camera's storage on day one alone! Questa is a true sight to see.
Here in Questa, the great outdoors is always the first recommendation. Even the Visitor Center, which is also a museum, has outdoor exhibits and ways to keep visitors in tune with nature.
If you want a little bit more sand in your boots, check out the Wild Rivers Visitors Center to start your expedition! Here you can begin camping, hiking, biking, and so much more! Just be sure to make it to the river. That's one sight you're not going to want to miss.
8. Ruidoso
Spend your getaway in the Sierra Blanca mountain range! Take your time in a place where lush green mountains pierce the vivid blue sky. Ruidoso is one of the most charming towns in all of New Mexico for many reasons.
Nearby, the Ski Apache resort runs its course, offering slopes from beginner to expert. Even if you aren't the snow sports type, this is more than the kind of place you want to spend your day at.
With a homey, wintery lodge feel and all the entertainment of the mountain, you'll never catch a dull moment on this mountain.
The city itself is teeming with unique and extraordinary experiences. Ruidoso is home to the Lincoln National Forest where some of the most invigorating trails take you to the most stunning waterfalls. And there's even some fascinating history right on the radar.
The Lincoln Historic Site is a 19th-century landmark, where the architecture and stone speak of history all its own. There is truly no place quite like Ruidoso!
9. Magdalena
For those who like the quiet comforts, Magdalena is nothing short of paradise! This town generally houses a population under 1,000, which makes this cozy little town unique.
Built up by those who have lived here for generations and loved by those who move in or visit. Magdalena is the spot to go if you like to feel a part of the city you're traveling to.
There are some of the best restaurants and attractions found just by walking down the street, and if ever lost, ask some of the locals! The best places in Magdalena are well-known and well-loved by locals and tourists alike.
One of the unique places known to Magdalena is the Kelly Mine. This location is a real hidden gem in New Mexico and one of the best places to go for a memorable experience. Kelly Mine embraces the past by bringing guests in for some stunning local architecture and artistry.
Magdalena is known as a recently up-and-coming art town, which means the blend of history and modernity is truly a sight to see. Visit a gallery, or check out some of the featured museums in town. Magdalena is a place to find your muse.
10. Madrid
Located in the famous Santa Fe region, Madrid is an excellent stop for those looking for something a little big city-adjacent.
This town is a great place to stay if you want to visit Santa Fe and an even better location if you want to explore a smaller, unique New Mexico town. It's particularly noteworthy for the prominent art scene, best exemplified by The Turquoise Trail.
This is a community of local artists that line the State Road and provide entertainment and inspiration for miles. Not to mention how pretty the location itself is.
If nature is the kind of getaway you want to get into, then Madrid is here to deliver! There are plenty of nearby hiking trails, bike paths, and lookout points that make this the excursion of a lifetime. The Cerrillos Hills State Park is a popular hiking destination.
With long expanses of golden brown broken up by the vivid green of the forest, this is one of those quintessentially New Mexico spots that makes you take a beat just to soak it all in.
The Ortiz Mountains are another big attraction. Seen from the city itself, this is a hike with a view that makes it all worth it. Get your head in the clouds with a memorable weekend in Madrid.
11. Jemez Springs
Nestled in the Santa Fe National Forest is a true New Mexico staple mark. Jemez Springs is a civilization that has been well-loved and lived in for over 4,000 years. What's so special about Jemez Springs is that it is a wonderful mixture of nature, history, culture, and so much more.
The San Jose de los Jemez Church is reason enough to visit, having been built in the 1620s, with ruins still erect today. All of this is encased in the stellar scenery of New Mexico.
Be sure to try out some of the hike or bike paths that litter the area, and check out some of the coolest rock formations in the southwest.
Jemez Springs is also known for just that: the hot springs! There are a couple of different options, although there are three distinct frontrunners. Jemez Hot Springs, Jemez Springs Bath House, and Jemez Hot Springs Original Springs.
All of these are just a few miles out from the city center and all with their charm and allure. Some are more outdoorsy, with views of the mountains, while others cater to comfort and give you the kind of R&R you've been searching far and wide for. Whatever your choice is, there's no denying Jemez Springs is just what you needed!
12. Abiquiu
Adventure in Abiquiu! When talking about "charming", what comes to mind first might be a small town that's well-loved.
A town with attractions, landmarks, and scenery that is unique and specific to that area. A town that embraces the past without losing sight of its future. All of that can be found at Abiquiu.
Gathering its name from the Tewa language and directly translating to "wild chokecherry place", Abiquiu speaks of beauty like no other.
Distinct, impressive architecture, spiritual retreats that leave an impression for a lifetime, and some of the most jaw-dropping views of serenity and peace in nature all await in Abiquiu.
Although there are a couple of different attractions in the city, most will recommend the Ghost Ranch. This is a spiritual retreat with a featured museum and copious trails to get the blood pumping and the brain working.
If you're in town with time to spare, maybe even drop by the O'Keeffe Welcome Center and get started on planning out all the fun to be had.
Abiquiu has a wide array of art from many different inspirations, which makes for an incredibly immersive experience whether you choose a gallery or a museum. And, of course, there's no forgetting what the Earth provides.
Abiquiu Lake is a gorgeous blue-green water oasis with picturesque mountains just on the skyline. Bring a camera because Abiquiu is not the kind of place you forget!
13. Chama
Just short of the Colorado-New Mexico border lies this little mountainous gem! Chama is a cute little town with all the warmth of a city in the sun.
As a prominent railroad city, Chama has beautifully preserved the history used to keep this town chugging along. And it's all available for viewing as well.
Check out the Cumbres and Toltec Scenic Railroad for an in-depth view of what made Chama such a hotspot. Maybe even hop on for a steam engine train ride that takes you through the forest! Cumbres and Toltec will give you one of the unique looks at Northern New Mexico.
Chama is also the perfect town for the small city comforts you just can't find elsewhere. Area-specific malls such as Mountainview and all the activities that embrace the scenery surrounding Chama.
Check out Trout Fly Fishing or Fishtail Ranch for a wide world of outdoor activities you might not have ever considered before.
Chama is all about trying new experiences and having them quickly become your favorite memories. Keep the night going at one of the restaurants in Chama that just can't be beaten! Find that Chama charms all for yourself!
14. Tularosa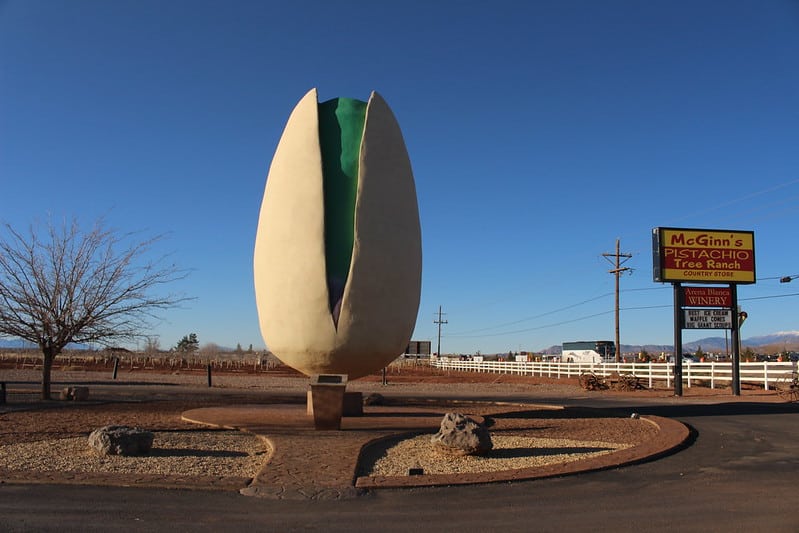 Need a getaway with your best buds? Tularosa is just the place! Tularosa is known for a couple of different things, but the main two are interesting enough; they need specific mentions.
Firstly, this is the liquid heaven wine lovers have been dreaming of! Flavor comes alive at Tularosa Vineyards, where a tour and tasting are just the start!
Tularosa itself has plenty of food and drink tours that will have your mouth watering for just one more day in this beautiful town. And the hardest problem you'll have to solve is which wine was your favorite and which deserves another glass.
While wine is pretty great, Tularosa is also known for having one of the 'world's biggest' accomplishments. The world's largest pistachio! Right here in Tularosa, massive and proud and available for travelers to visit and photograph to their heart's desire.
And if that magnificent structure has you thinking of the flavor, maybe even go inside of McGinn's Pistachio Land to try some Pistachio flavored ice cream.
This is also the wine-tasting location, so be sure to stop by from 9:00 a.m. to 5:00 p.m. every day (and 6:00 p.m. on the weekends!). Tularosa is nothing short of tasty!
15. Eagle Nest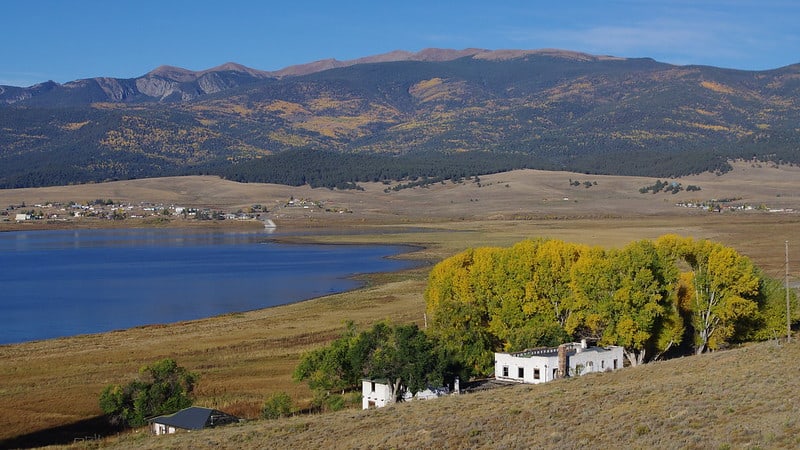 Soar to new heights in Eagle Nest, New Mexico! Renamed in the 1930s from the original label of "Therma", Eagle Nest has been calling adventurers to its borders for years on end. Eagle Nest sits in the Enchanted Circle Scenic Byway, making this a breath of fresh air in every sense of the phrase.
The full list of outdoor activities could fill a page itself, but one of the most beloved is indisputably Eagle Nest Lake State Park. Want an Eagle's view in Eagle Nest? Try one of the mountains on the horizon. Touch-Me-Not Mountain, where the paths will take you to new heights, and Baldy Mountain for some of the more adrenaline-based explorers out there. Try mountain hiking, mining, bouldering, and climbing to work up a New Mexico sweat.
And what's better than a cold beer after a challenging hike? A locally sourced, locally owned brewery, of course! The Comanche Creek Brewing Company is an absolute must-visit in the area. Try out the specialties, or maybe even venture out into something you've never tried before to really make this trip worth the drive.
And as a New Mexico town in the mountains come wintertime, check out some of the local ski rentals. Or maybe the kind of trails locals live and ride for. Eagle Nest is one of the best towns to visit to find out what makes New Mexico so unique and incredible.
Wrapping up: Beautiful New Mexico Small Towns
Known for mountains that pierce the sky and hot springs that dip deep into the warmth of the Earth, New Mexico is nearly synonymous with fun! Fun for the kids, fun for adults, fun for the elderly, and everything in between! Try out one of the water parks across the state, or go on a rigorous hike in the thick mountain forests.
Check out your new favorite bed and breakfast or the best glass of wine you've ever been graced with. New Mexico has so many adventures to explore that fun is just the start! Any of these 15 towns will bring a new meaning to the word small-town charm and solidify New Mexico as a great adventure state.
Which city sounds like your cup of tea? Which sounds like the biggest adventure, the biggest jump outside your comfort zone? Whatever you choose, the one guarantee is that this will be an experience like no other. The only thing left is to embrace it!