To dive into the Blue Hole, you are required to purchase a $25 SCUBA Permit that is good for one week. Annual permits are $75.00. Permits are available at the Blue Hole Center or the Blue Hole Dive Shop. A permit for skin diving, which includes Free Diving or breath-hold underwater diving, is also required per the City of Santa Rosa Ordinance 207.
The spring is about 4,600 feet above sea level, and if you're driving out of town right after your dive, you can hit altitude in the 7,000- to 8,000-foot range. Adjust dive plans and tables accordingly. Planning materials are available at the Santa Rosa Dive Center, but divers are solely responsible for planning and executing a safe dive plan.
Santa Rosa-Blue Hole is dedicated to providing the best In-Land Scuba Training lake and facility available in the region. Every effort is made to assure water clarity and safety. Improvements are continuously being made to enhance the facility. The facility is open to the public, but scuba divers and guests only in the Dive Center warm room and showers.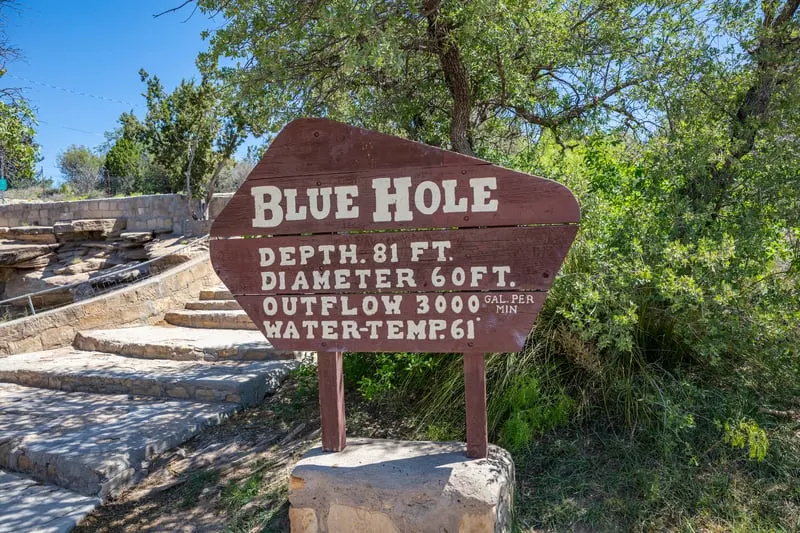 Sign-In is the first stop for divers to enter the Blue Hole or Perch Lake. Please fill out and sign the permit and release form prior to your dive at the Blue Hole. You can buy a weekly permit, and annual permit holders should check in for a current wristband.
The permit registration form and release, rules & regulations, floor plans, maps, and visitor information are located at the Blue Hole Center or the Dive Shop. Wi-Fi is available inside the Blue Hole Center.
For your dive convenience, if the main entrance gate is not open, training groups, certified divers, and Instructors may enter through the gate at the two white pillars, go around the building, and may park near the dive shop.
Some of the Scuba Diving Training amenities include:
| | |
| --- | --- |
| Ample-parking space located near Blue Hole | Boat Simulator platform on top of the water |
| Training dock at Perch Lake | Live fish and crayfish |
| 3 Training and Meeting Rooms | Interesting wall diving |
| Warm Room and Showers | Dive shop with save-a-dive diving supplies |
| Changing Facilities | SCUBA tank refills |
| Modern restrooms are conveniently located at the site | SCUBA Equipment Rental |
| 3 Training Platforms underwater | |
There is Management on site and a dive shop concession on-site with refreshments. Blue Hole Water clarity and depth are among the features that enhance the training and ability to communicate during exercises to improve diving skills.
Fishing is not permitted at Blue Hole. Swimmers, Pets, or Children are allowed, and fees may apply. Blue Hole is a well-maintained and landscaped facility dedicated to Scuba Diving Training. Open Water, Advanced Open Water, Rescue, Dive Master, and Diving Instructor Training can be completed at Blue Hole. Rescue, Law Enforcement, College, and Military groups regularly utilize the Lake's facilities.
A variety of aquatic life flourishes in the Lake. No fishing or use other than Scuba Diving, free diving, or recreational swimming. Training is allowed at the Blue Hole. Recreational swimming at Blue Hole is by permit only, and scheduled hours for swimming are posted. Lake management seeks to maintain a pristine natural lake environment and has taken measures to channel surface runoff water from polluting the Lake.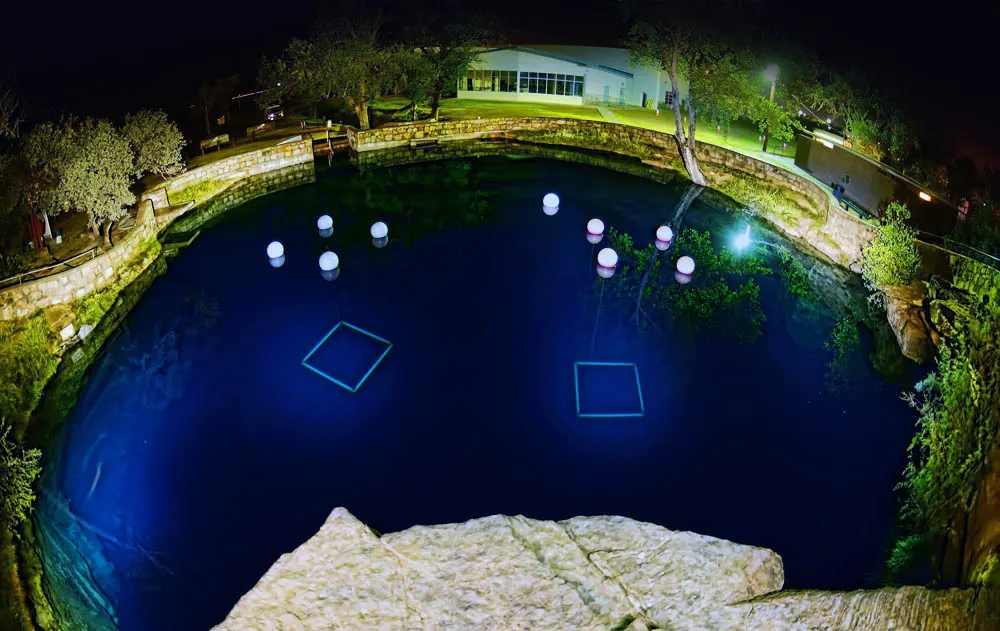 Water Conditions: You can dive the Blue Hole year-round (winter is actually the busiest season), thanks to the constant spring flow that keeps the water temperature at a stable 61 degrees. A 7-mil wetsuit is considered the minimum thermal protection. Visibility is a consistent 100 feet.
Dive Equipment and Air: Santa Rosa Dive Center, (575) 472-3370, is located next to the Blue Hole and is open on Saturdays and Sundays from 8 a.m. until the last diver is served. The shop rents gear, scuba gear, diving suits, diving goggles, and tanks and offers air fills but does not provide instruction. Shop owner Stella Salazar will also be open on weekdays by appointment for certified divers and groups if you call ahead.
For More Info: Contact the Santa Rosa Visitor Center at (575) 472-3763.
Geology: Blue Hole and the Santa Rosa area system of the collapsed sinkhole or cenote lakes is a true geological phenomenon. It was formed by estimates anywhere from 20,000 to 100,000 to 300,000 years ago by water erosion action in both subterranean and rain, watershed flows, and surface water.
The collapse of the "Santa Rosa Sink" area took place in two basic types of geological events; some of the collapse and formation of the "Santa Rosa Sink" were in sudden drops of a number of feet per event; some of the collapse events were immeasurable or unfelt by humans if there were any at the time, at centimeters or inches per year.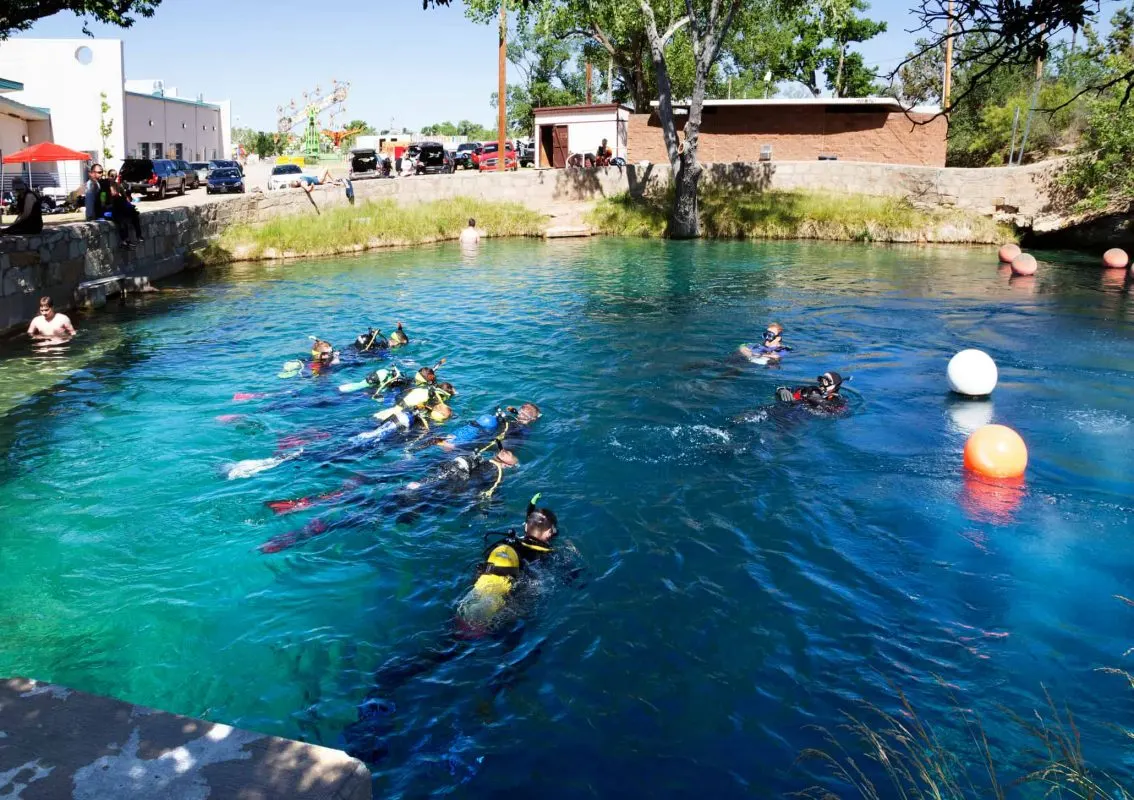 Blue Hole is a geological phenomenon consisting of a large water-filled sinkhole, which is a natural spring-fed lake with an outflow of 3,000 gallons a minute. Blue Hole is one of 7 such sinkhole lakes fed by an underground water supply that is no doubt connected through water-filled caverns underneath. Other lakes include Hidden Lake, Twin Lakes, Perch Lake, Bass Lake, Post Lake or Swan Lake, and Rock Lake.
The Santa Rosa Sink was formed by water seepage and erosion over millions of years, slowly forming a large basin and wetlands. The subsequent collapse of geological strata or karsts weakened and dissolved by constant water action formed the artesian spring well that now provides the spectacular setting for the park.
Sinkholes, common in the area, result from the dynamic combination of water erosion below and standing water pressure from rains or springs from above, resulting in a massive sinkhole or cenote, a water-filled geological phenomenon.
Temperatures at the Blue Hole in Santa Rosa, NM, range from highs that can exceed 100F in the summer to lows in the single digits in the winter. Average temperatures in January are 55 degrees high and 33 degrees low, and in July, highs average 89 degrees and lows average 63 degrees. In April, it is 74 average high and 40 degrees low. In October, it is average 76 high and 42 average low temperatures. The average annual precipitation for the Blue Hole is 12.5 inches.
Diving at Blue Hole
A current certification card is required to dive in Blue Hole
Weekly Dive Permit $25
Annual Dive Permit $75
Annual Instructor Permit $125
Dive Shop Requirements
Annual renewal $225
Up to 5 instructors with Padi, SSI, or valid diver license
Current proof of insurance
Hours of Operation
Monday-Friday (8:00 a.m. to 7:00 p.m.)
Saturday-Sunday (7:00 a.m. to 7:00 p.m.)
Related Pages: