There are several Route 66 museums found along the historic route stretching across the country, but none of them quite compare to the passion instilled in the Route 66 Auto Museum in Santa Rosa. The museum is a haven for car enthusiasts and those interested in re-living a pivotal era in automobile history.
Route 66 Auto Museum started as a business for restoring cars, which operated for over 40 years. The owner, Bozo Cordova, grew his passion for vehicles alongside his family to create one of the top local attractions.
The intimate museum setting is perfect for visitors to:
Explore the vintage car collection
Purchase Route 66 memorabilia
Join a local event
Explore the vintage car collection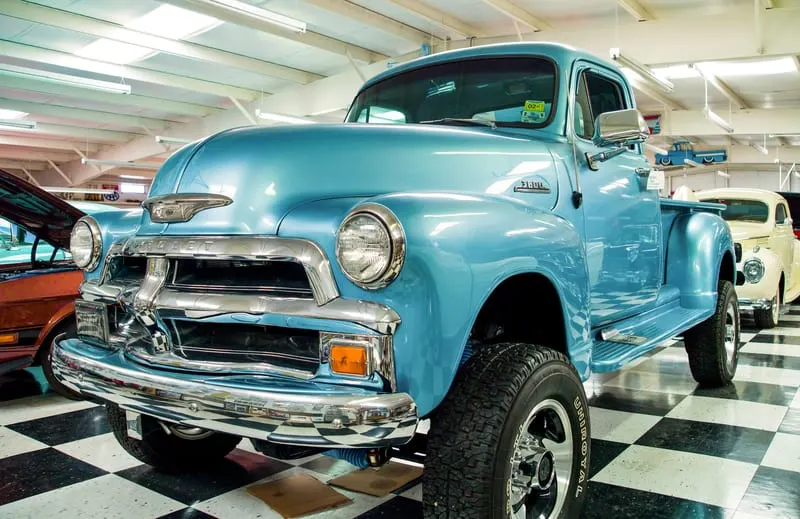 Enter the checker-floored garage to discover one of the best-preserved vintage car collections in the world. More than 30 privately-owned cars line the garage, showcasing a mix of popular and rare vehicles from the heyday of Route 66.
The Route 66 Auto Museum features retro, vintage, classics, street rods, and much more in a condition like you wouldn't expect. The restoration expertise of the owner brings the cars back to their original glory. You'll find like-new condition Corvettes, Mustangs, Roadsters, COE trucks, Woodys, etc., all boasting fresh paint jobs and chrome shiny enough to see your reflection.
Guided tours are available (and recommended for large groups) where you'll get a personal walk around the garage from the owner to hear stories about each of the cars. It's a great way to learn about the history of Route 66 and the iconic vehicles that drove it.
Purchase Route 66 memorabilia
After exploring the car collection, head inside the museum's Route 66 gift shop at the front to shop some of the memorabilia. Visitors can find some decorative souvenirs of the historical route and even small car models.
It's easy to spend just as much time inside the gift shop while walking amongst the vintage Route 66 road signs and other signage collected over the years. There is even a small diner reminiscent of the 50s to grab a quick bite before heading back out onto the road.
For those really into cars, some of them on display are for sale to take home the best souvenir you could imagine.
Join a local event
The Route 66 Auto Museum is more than just a place to explore the past but also brings the Route 66 experience back to life by hosting various events. The events are a great way to connect with other local car enthusiasts and even hang out with the owner. Be sure to check when upcoming events are happening if you're visiting town so that you can take part in them.
The events allow you to bring out your own vintage car and ride around town with other classics while enjoying food, live music, and the Santa Rosa downtown sights. It's one of the most fun you can have.
Address: 2436 Historic Route 66, Santa Rosa, NM 88435
Phone: (575) 472-1966
Hours: 7:30 AM– 5:30 PM