The Blue Hole of Santa Rosa, NM is often a surprising attraction for visitors traveling through the New Mexico desert. It's a popular natural pool once used by cowboys or people traveling along Route 66 to cool off in the desert heat. Today, visitors come for recreational swimming, and it's one of the top diving spots in the country.
Blue Hole gets its name from the rich pure blue tones of the water. It's a unique waterhole that refills with 3,000 gallons of water every minute from the natural flow. The bell-shaped design has a surface diameter of 80 feet and 130 feet at the bottom – high visibility makes it possible to see the floor.
Visitors to the Blue Hole can enjoy activities including:
Scuba diving
Swimming and cliff jumping
Fishing at Blue Hole Fishing Pond
Scuba Diving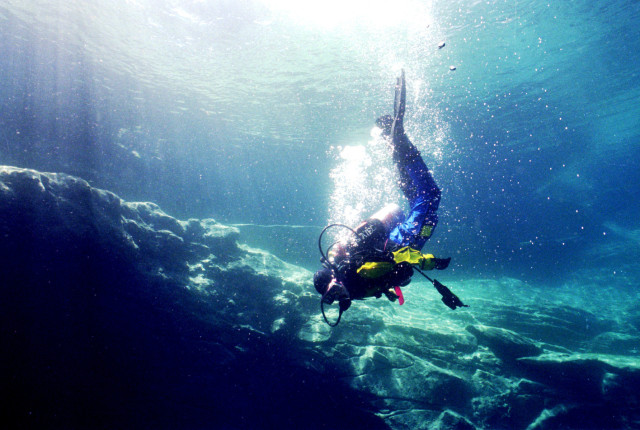 Blue Hole is a famous diving spot in the US, attracting professional divers from around the country to explore the depths of the natural pool. Its depth is more than 80 feet, and New Mexico's high elevation causes varying water pressure temperatures at the bottom than under normal conditions.
Although Blue Hole is open to the public, special permits are required for divers. Scuba divers can purchase permits onsite, but free diving (no equipment) requires additional licenses.
There is a Blue Hole Diving Center onsite for everything you need to get started with diving in the Blue Hole – it provides equipment rentals and serves as a training site for beginner divers. There is also a local diving shop nearby.
Swimming and Cliff Jumping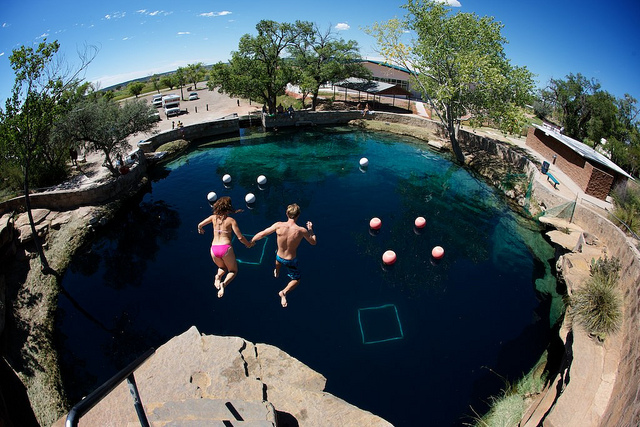 New Mexico's hot weather is ideal for visiting the Blue Hole. The water stays at a constant 62 °F, so it's perfect for cooling off in the desert. The refreshing swim is always a great way to spend a couple of hours. The pool attracts locals and visitors thanks to its location near many of the major cities.
Those daring enough can climb atop the cliffsides to jump off the platforms into the water. The cliffs are level and a popular place for taking the first dip in the cool waters. There are stairs for easy accessibility for jumping in.
Blue Hole Fishing Pond
Blue Hole is a destination for all ages – kids will have lots of fun at the attraction, but there's a secret gem that many people overlook during their visit. Located nearby is the Blue Hole Fishing Pond, a smaller pond explicitly developed for kids and recreational fishing.
The fishing pond is smaller but still packs a big day of fun for everyone. Sit out by the pond and cast your line into the blue waters to catch some local fish such as Live fish and crayfish.
As for the kids, there is a small inflatable obstacle course that they will have a lot of fun with while you wait patiently to catch a trophy fish.
Hours of Operation
Monday-Friday (8:00 a.m. to 7:00 p.m.)
Saturday-Sunday (7:00 a.m. to 7:00 p.m.)
Address: 1085 Blue Hole Rd, Santa Rosa, NM 88435