Route 66 is a famed route in the US extending from Illinois to California. Many early Americans made the 2,448-miles journey to make it one of the most iconic routes across the country. Today, Historic Route 66 is still a popular road trip route where travelers can discover the rich heritage preserved along the way.
Travel on the Historic Route 66 to explore some of the small towns and the roadside attractions. Every state has must-see Route 66 attractions worth stopping by to commemorate the trip. You'll see incredible statues, landmarks, restaurants, and neon signs at every destination.
Whether you're looking for photo opportunities or fun places to visit, there are many things to see on Route 66 that make it one of the best road trips in the US. You'll be amazed at how the route maintains its heritage, and you'll understand what makes it so famous by the time you finish the journey.
Top 23 Route 66 Attractions You Must See.
Route 66 Attractions in Oklahoma
1. Blue Whale of Catoosa – Oklahoma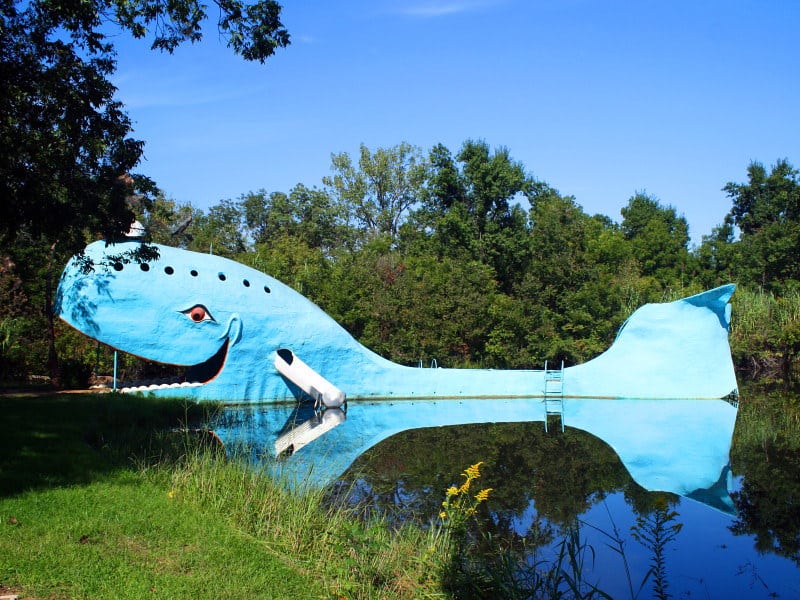 Flickr/Chuck Coker
Riding east of Catoosa, OK, you'll discover the Blue Whale of Catoosa,  one of the most iconic Route 66 attractions. Stop by the small pond to check out one of the favorite photo locations along the route.
Blue Whale of Catoosa was built in the 1970s and quickly rose in popularity for travelers. It was built in a pond that was a favorite swimming spot; swimming is now restricted, so visitors can only enjoy the sights.
Walk into the whale's mouth or climb on top of the tail for photos. It's a fun place for kids to climb around. It's a great place to stop for a picnic, too. There are whale-themed picnic tables next to the pond, and you'll also find a gift shop.
2. Milk Bottle Grocery – Oklahoma City, Oklahoma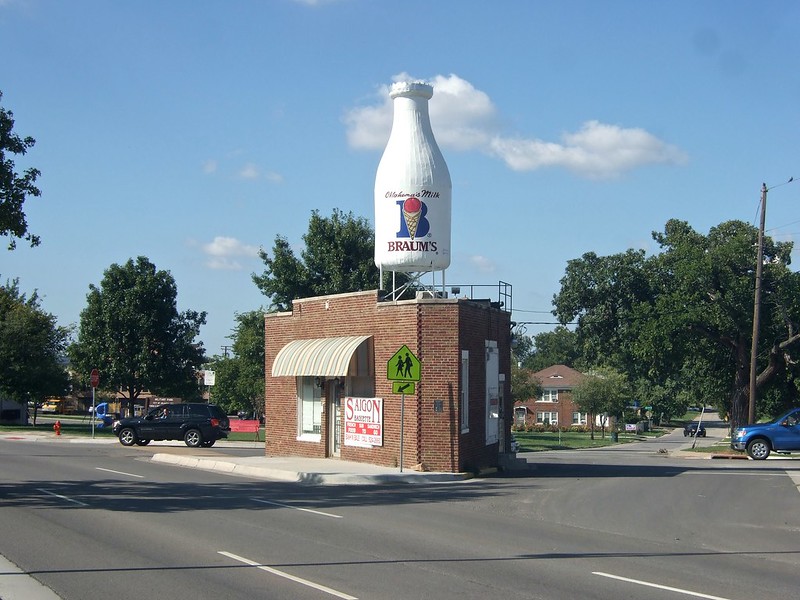 Flickr/Aaron Hall
The Milk Bottle Grocery building in Oklahoma City's now Asian District is one of Route 66's famous landmarks, which you could only miss if you have your eyes shut.
The quirky, triangular-shaped building was constructed in the 1930s, initially as a car shop, but the streetcars didn't last long, and it became a grocery store. – known to locals as "The Triangle Grocery" (from 1940 until 1948).
The iconic giant milk bottle which sits on top was only added in 1948; but interestingly, it was rented separately from the store itself, mostly as a form of local advertising – many dairy companies have paid to have their logos painted on the milk bottle – a great idea as the grocery is located on busy Classen Boulevard where it can be seen by thousands of people as they drive through Oklahoma City on the famous Route 66.
Roll on another 50 years, and this magnificent site was added to America's National Register of History Places, and the Giant Milk Bottle, an interesting and somewhat unusual tourist location.
Sadly, despite the efforts of Elise Kilpatrick (who inherited the store from her father) to bring the Milk Bottle Grocery back to its original appearance and continue to provide a local grocery business, it was unsuccessful, and the building is now used as office space. The milk bottle remains, so it is still worth a visit; after all, it's not every day you see a building with a giant milk bottle on the roof. This is definitely one of the coolest Route 66 attractions.
Georgina | Culinary Travels
3. Pops 66 Soda Ranch – Arcadia, Oklahoma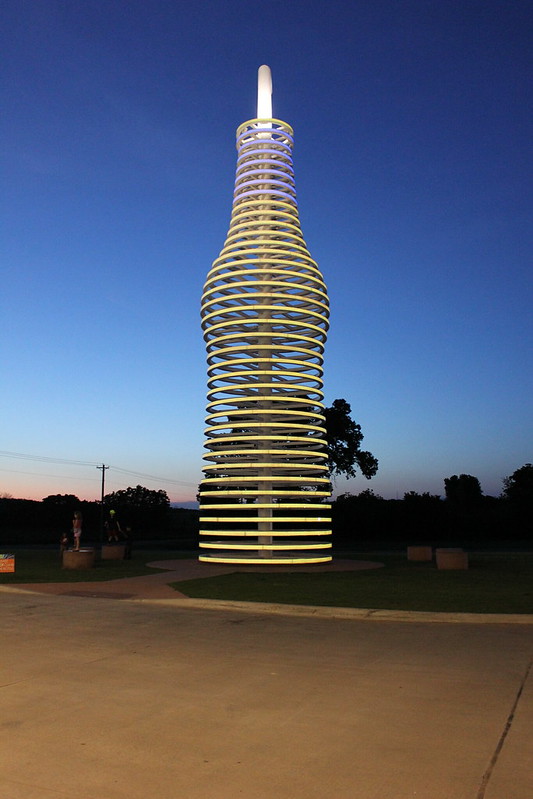 Flickr/Nicolas Henderson
Pops 66 Soda Ranch is the perfect, quirky roadside stop along the historic Route 66. Located in the small bedroom community of Arcadia, Oklahoma, this old-fashioned soda shop and diner offers 700 different sodas.
You can buy a six pack of a unique flavor to take home and try, or you can create your own six pack from a variety of different sodas. Located just east of Oklahoma's capital, a visit to Pops is a must for anyone visiting Oklahoma City with kids. 
You can't miss this iconic soda shop, diner, and gas station, with its 66-foot tall spiraling neon soda bottle that will catch your eye from a mile away. Even the soda bottle's height is a nod to the historic Route 66 highway.
The unique, ultra-modern design begs passersby to stop and check it out. With everything from classic root beer soda to strange flavors like buffalo wing soda or chocolate bacon soda, Pops Soda Ranch is just as interesting inside as it is outside. The soda bottles are all arranged by color along the shelves of the glass walls of the building. 
For those who want to stop for breakfast, lunch, or dinner, it is fun to pursue to the aisles and shelves while you wait for your meal just to find the weirdest and quirkiest sodas in the shop. A soda from Pops 66 also makes for a great souvenir for anyone making the journey along the historic highway. It really is one gorgeous spot and one of the best Route 66 attractions.
Melissa | Parenthood and Passports
4. Arcadia Round Barn – Arcadia, Oklahoma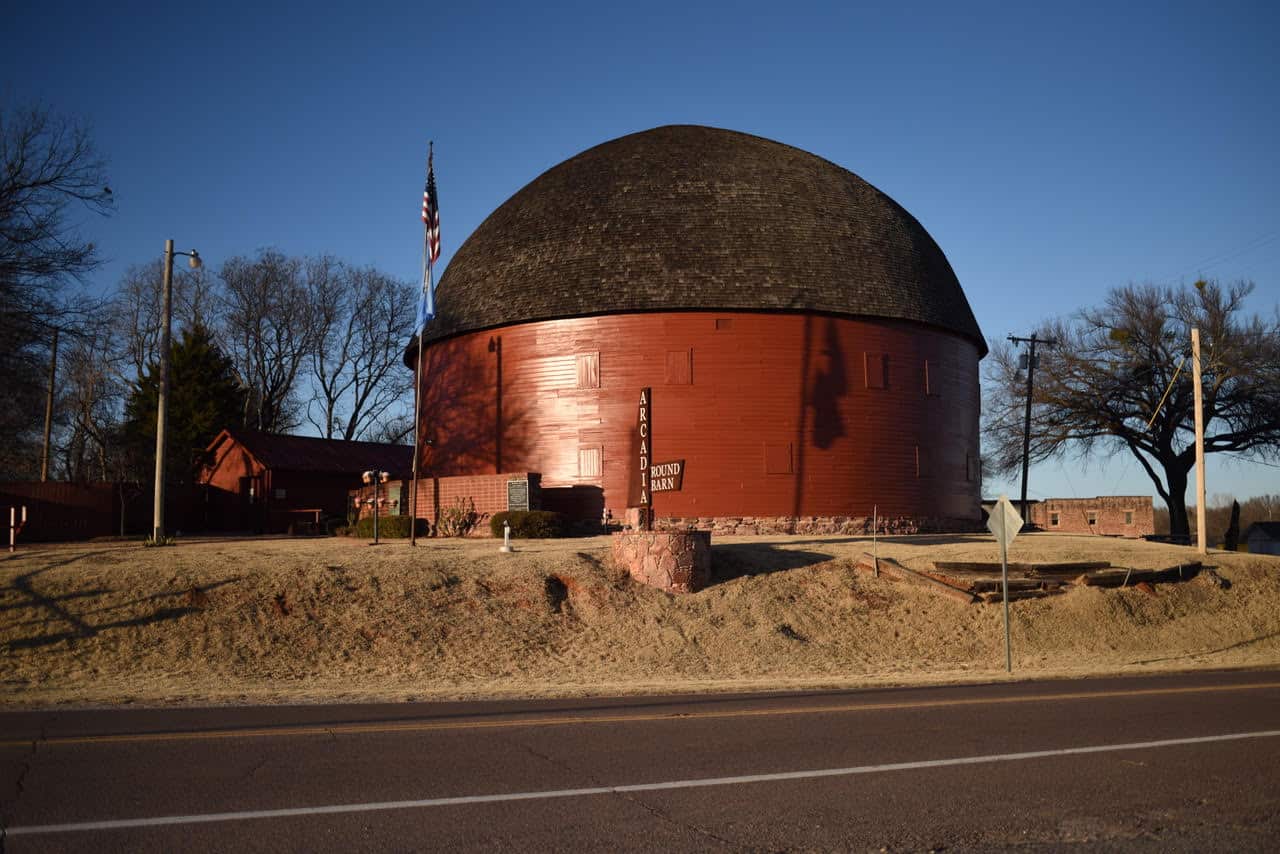 Another on our list of most famous stops on Route 66 is the bright red Arcadia Round Barn in Arcadia, Oklahoma, a suburb of Oklahoma City that lies just outside of Edmond city limits. Today the barn is a functioning museum and social event center, and live music venue. There is no cost to visit the exhibition inside, though, of course shopping at the gift shop is a great way to support the barn.
Dating back to 1898, the barn's interesting round shape draws attention immediately. The round walls and roof rafters were created by using local bur oak boards soaked while they were still green and shaped into their famous curves. Round barns were created to be "tornado-proof." Unfortunately, there's no proof that the round shape of the barn would hold up better in a cyclone, but it certainly did help the barn's preservation into the twenty-first century!
Route 66 was built alongside the barn through Arcadia in the 1920s. Just think of the hundreds of thousands of travelers who have driven past this barn since 1929 – that's almost one hundred years of roadside stops to take in this beautiful architectural gem!
While most travelers will continue to stay in Oklahoma City, there are a few hotels closer to Arcadia if you want this to be a stop towards the end of the day. The closest hotels are just a few miles away in Edmond. You can choose from the La Quinta Inn, the Sleep Inn, and the Holiday Inn.
Stephanie | Oklahoma Wonders
Route 66 Attractions in New Mexico
5. Blue Hole – Santa Rosa, New Mexico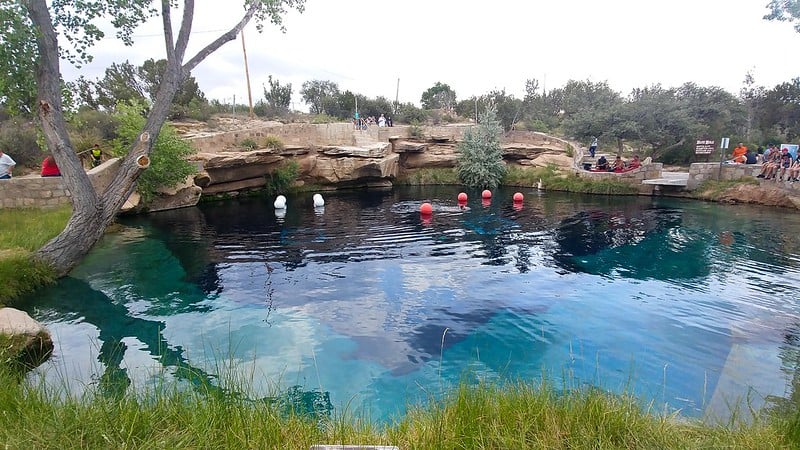 Flickr/sk
Route 66 attractions aren't just about sightseeing as you'll come across several locations for leisure. One of the best places to stop by is the Blue Hole in Santa Rosa, NM. Blue Hole is a famed diving spot in the US and a favorite place to go for a refreshing swim.
Blue Hole is a natural pool with spring-fed water maintaining a temperature of 62°F all year. The name derives from the pool's turquoise blue waters with surprisingly high visibility to see its incredible depth.
Although diving requires a permit, it's open to the public to enjoy leisure swimming. It's a fun destination on Route 66 for all ages. If you're brave enough, jump off the surrounding cliffs into the pool.
6. Tee Pee Curios Shop – Tucumcari, New Mexico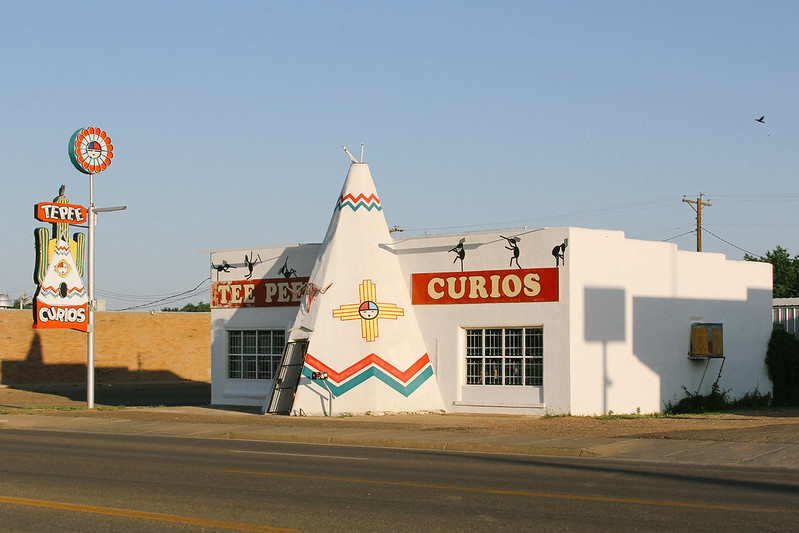 Flickr/el-toro
Tucumcari, NM, is one of the top Route 66 stops to visit along the road trip. One of the best shops to visit while in town is the Tee Pee Curios Shop. Walk into the door of the large white teepee, and you'll enter one of the best souvenir shops on the route.
Tee Pee Curios Shop is a gift shop selling lots of Route 66 memorabilia, collectibles, and souvenirs. You can find items from clothing to pottery on the shelves. Take your time browsing as you never know what you'll come across.
Be sure to take advantage of the photo opportunities at the shop. Inside, you'll find several statues and murals decorating the building. Visit at night to see the illuminated neon teepee sign.
7. KiMo Theatre – Albuquerque, New Mexico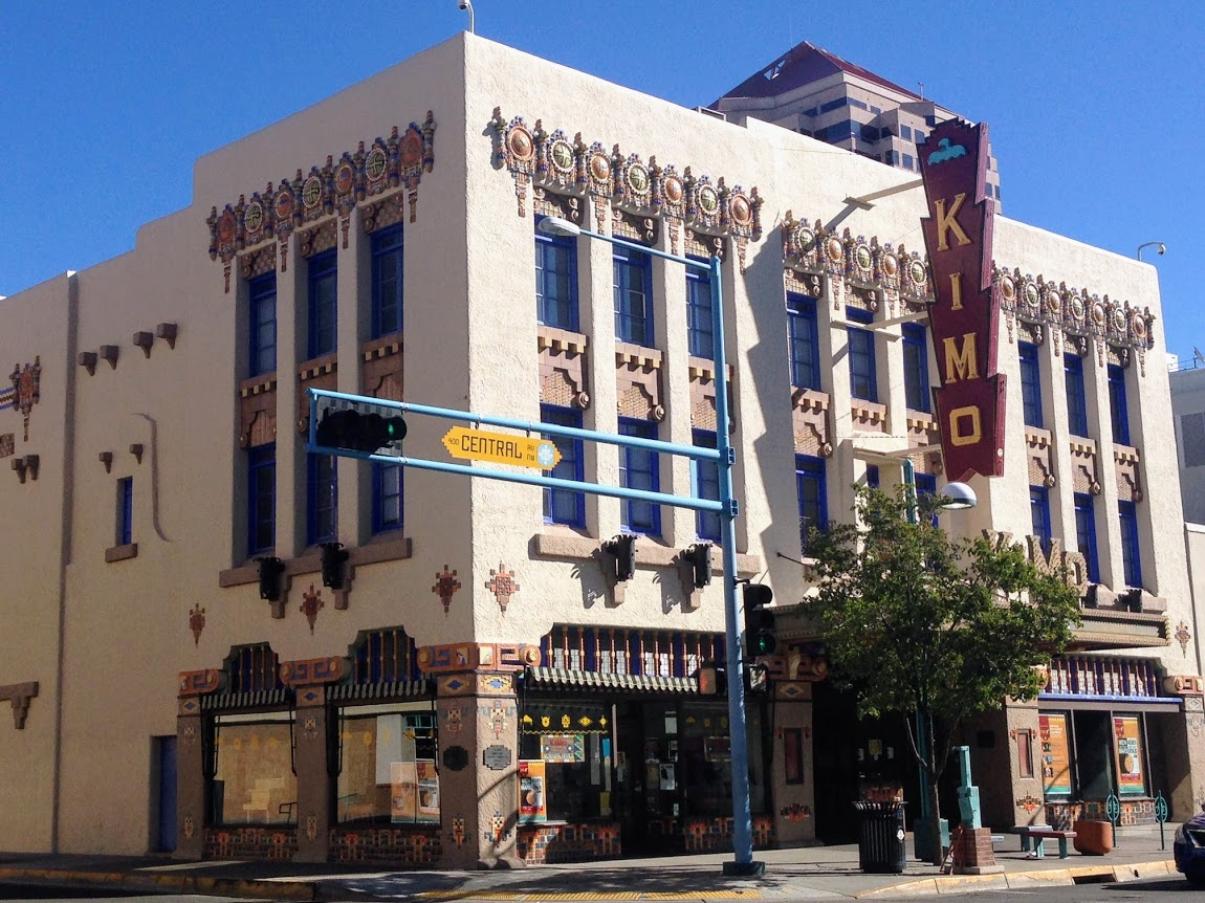 Albuquerque, New Mexico, is a can't-miss stop when exploring the old Route 66. After all, Albuquerque contains the only intersection where Route 66 crosses itself. But the most beautiful attraction along Albuquerque's Route 66 is the KiMo Theatre. This theater, built in 1927, is one of the only buildings done in the Pueblo Deco style, which combined Native American motifs with Art Deco design. It is considered to be the most important Pueblo Deco building in the world.
The KiMo is still an active theater, so the best thing to do here is take in a play, movie, or performance. Guided tours are also offered during Meet the KiMo events, but visitors can take a self-guided tour of the KiMo any time during opening hours. The KiMo has so many unusual features inside, but be sure to see the Wurlitzer pipe organ. It was used to accompany silent films back in the 1920s. The most famous works of art in the KiMo are the nine wall murals painted by Carl von Hassler. These murals depict the stunning landscapes of New Mexico; the mural of New Mexico's pueblo dwellings is especially beautiful.
When you're done, stop for lunch at the nearby 66 Diner, located in a former Route 66 Phillip's gas station. Their bacon and green chile cheeseburger is delicious, as is their special "Elvis" peanut butter and banana milkshake.
The best hotel in Albuquerque is the Bottger Mansion of Old Town. The charming owners will fix you a delicious breakfast every morning, give detailed directions for exploring Albuquerque, and help guests get to know all the attractions in town, from Route 66 landmarks to hot air balloon riding.
Stella Jane | Around the World in 24 Hours
8. El Morro National Monument – Ramah, New Mexico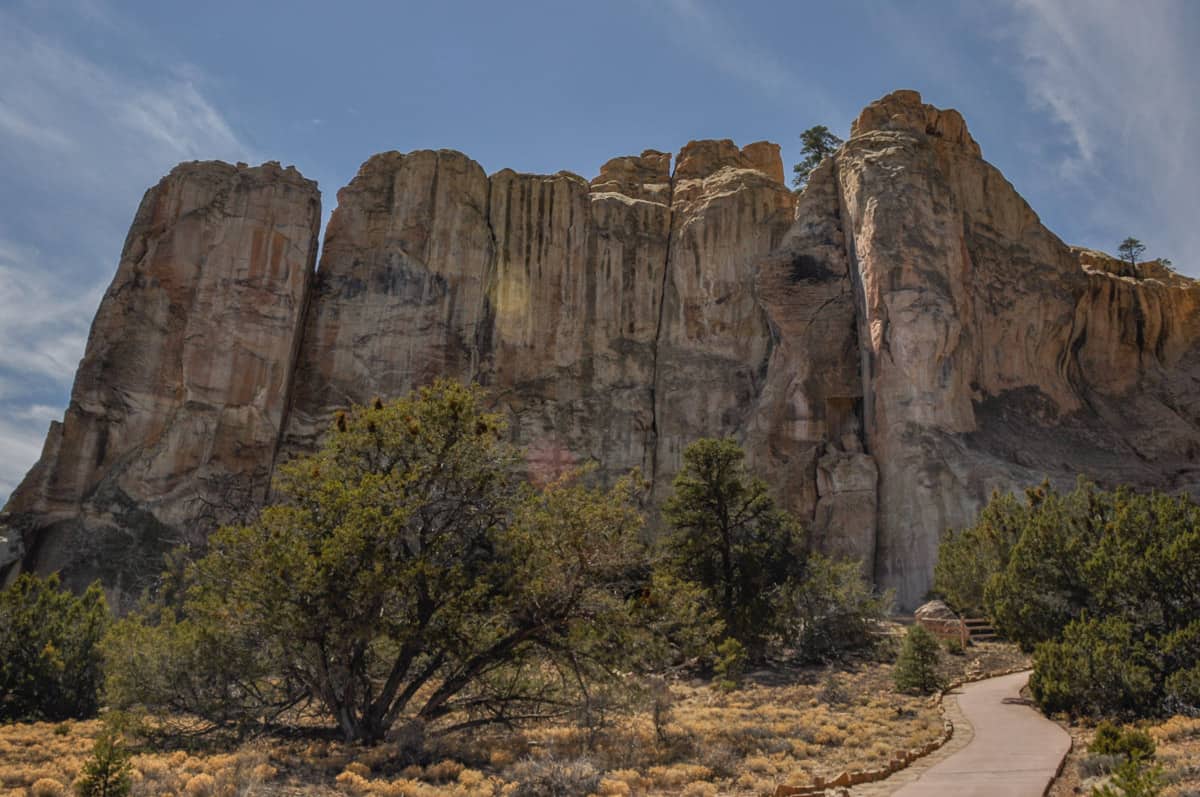 We tend to think of graffiti as a modern invention. But humans have been scratching their names into walls for centuries. The western pioneer version of this phenomenon can be found in El Morro National Monument in New Mexico. The monument is an easy stop on the New Mexico segment of route 66 and is an hour south of Gallup.
El Morro sits in the midst of a pretty dusty landscape and it became a famous stop on Route 66 because of its reliable watering hole. It was originally used by the Zuni, who built pueblos in the area during the late 13th century. There are still rock art inscriptions visible from that time.
A Spanish expedition came through in 1583, followed by even more explorers looking for riches. The first Spanish inscription came from Don Juan de Onate in 1605. By the mid-1800s, it was the pioneer wagon trains bound for California who were now stopping off at El Morro, leaving their own mark on the stones.
The primary activity at El Morro is a loop walk of the bluff, where you can view all of the inscriptions. This will take an hour or so. The monument also has a campground and ranger-led talks. But if you aren't camping, the best place to stay nearby would be in Gallup.
Carol Guttery | California Crossings
Route 66 Attractions in Texas
9. Tower Station and U-Drop Inn Café – Shamrock, Texas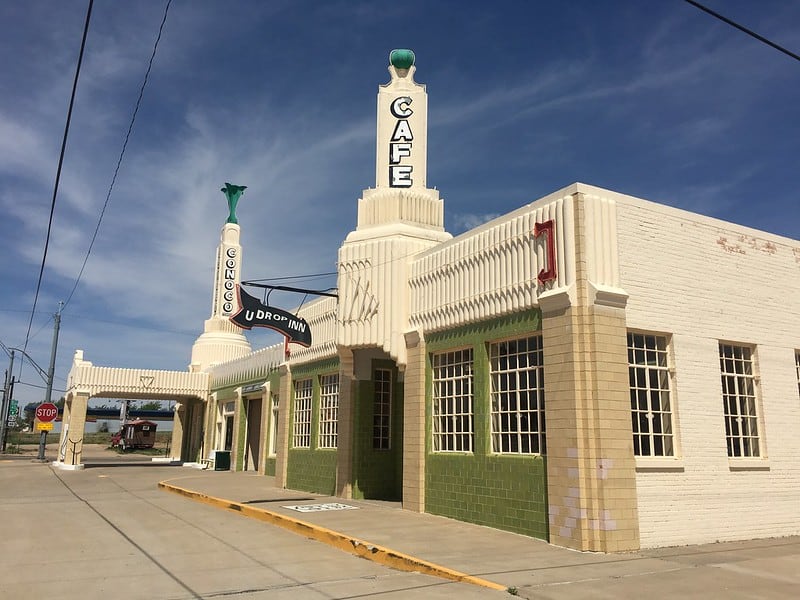 Flickr/Jeff Kays
It's hard to miss the impressive art deco architecture of the U-Drop Inn while traveling on the Historic Route 66. Built in 1936 in Shamrock, TX, U-Drop Inn combined a gas station with a café. It's one of the most famous buildings along the route – it received renovations to revive it to its original glory.
Today, U-Drop Inn is listed on the National Register of Historic Places. It was converted into the Shamrock Visitor Information Center. It has several exhibitions about the historic route. The building was adapted into the cartoon film, Cars, making it one of the best Route 66 stops for kids. Displays in the center are dedicated to the film and create a great photo opportunity.
10. The Big Texan Steak Ranch – Amarillo, Texas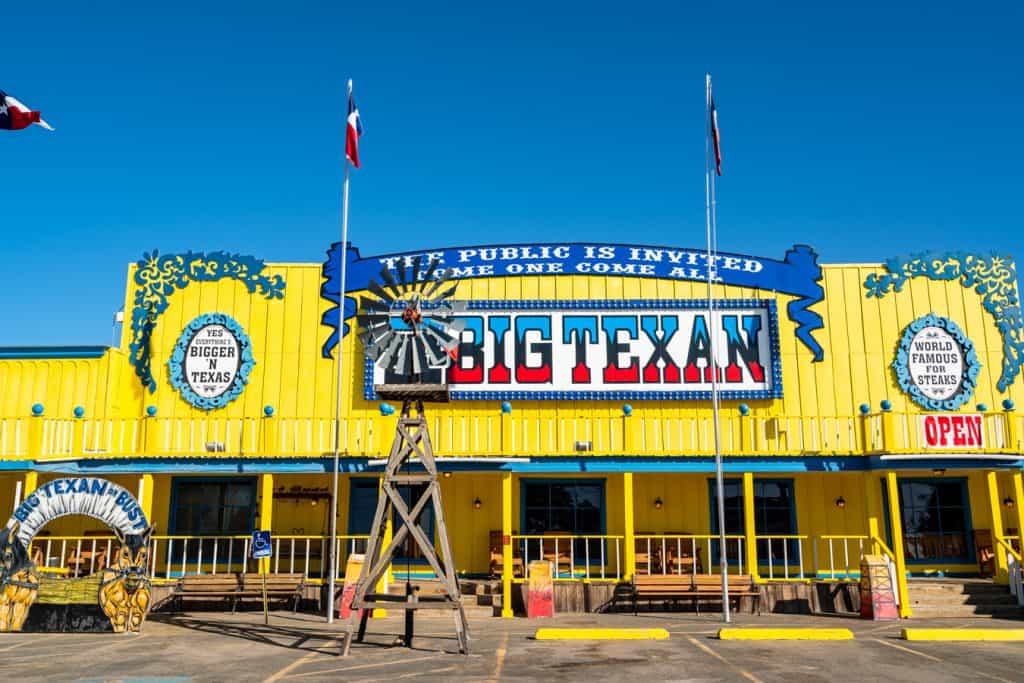 Located right off the highway in Amarillo, Texas, the Big Texan Steak Ranch is another popular Route 66 attraction in Texas that is impossible to miss.
Bright yellow and decorated out front with everything from a cow statue to windmills to a statue of a dinosaur to cars decorated with longhorns, the Big Texan Steak Ranch has been turning heads and acting as an unforgettable, kitschy photo op since 1960–in other words, it has been Instagrammable for far longer than Instagram has existed.
The Big Texan Steak Ranch is best known for its 72 oz steak challenge. If you take the challenge, you'll need to sit at a table in full view of the rest of the restaurant while you attempt to eat not only an entire 72 oz steak but a shrimp cocktail, roll with butter, salad, and baked potato as well–all in an hour or less.
Succeed, and the gut-busting meal is free. Fail, and you'll need to pay up $72.
If food challenges aren't your thing, though, the Big Texan Steak Ranch serves up plenty of human-sized cuts of meat as well, as well as other Texan specialties like chicken fried steak.
Want to make an event of your visit? Consider staying at the on-site motel or RV park or taking advantage of the restaurant's complimentary limo pick-up service (the limos have longhorns attached to the front of the vehicle, of course).
As one of the most famous and quirky things to do in Amarillo, a visit to the Big Texan Steak Ranch–at least for photos out front, if not for a meal–is a must-see when road tripping Route 66.
Kate Storm | Lone Star Travel Guide
11. Cadillac Ranch – Amarillo, Texas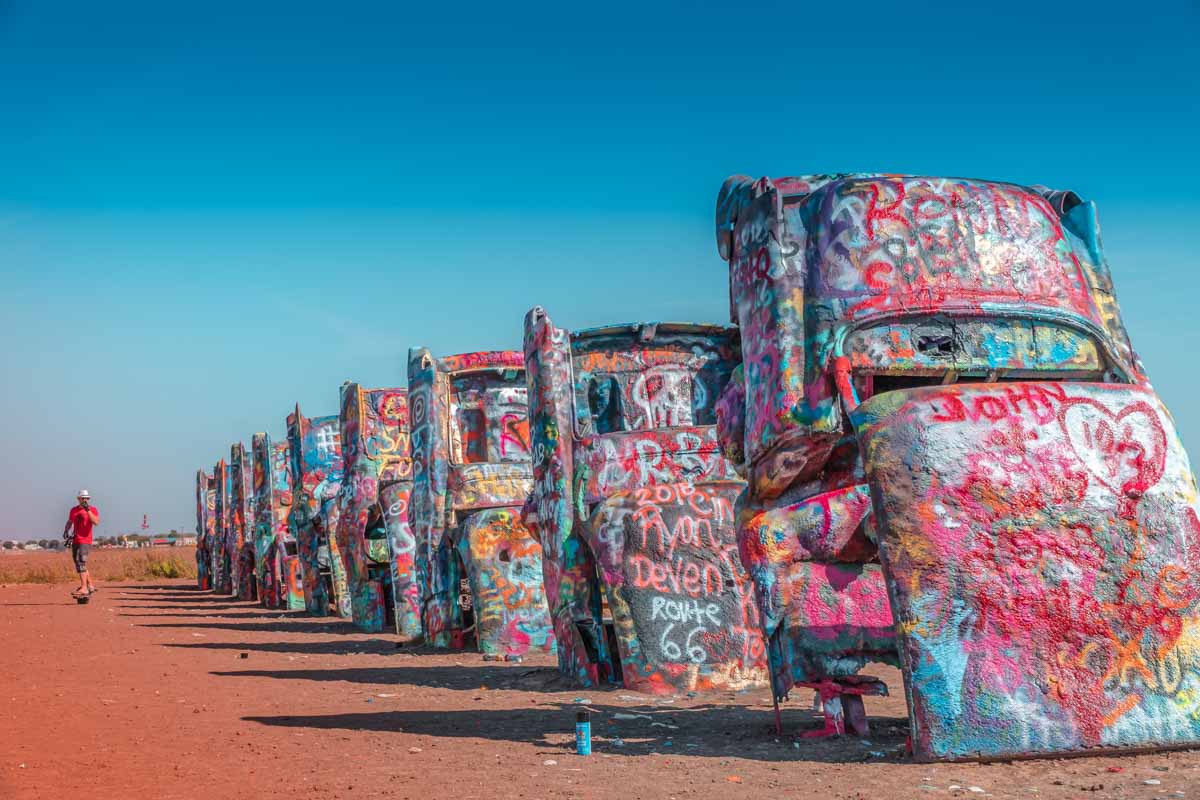 Whether you're going on a road trip in Texas or the USA, you have to include the Cadillac Ranch in your travel plans.
The idea is as simple as it is crazy. This iconic Route 66 stop consists of ten Cadillacs 1949-1963 buried nose-down in the desert near Route 66, west of Amarillo, Texas.
Created in 1974, the Cadillac Ranch was the project of three friends who, after reading a children's book, got the idea of creating such an excentric installation.
The trio reached out to Stanley Marsh 3, an American millionaire, to ask him to sponsor their project, and that's how the quirky sculpture got into existence.
To photograph the graffiti-covered cars, you will need no longer than half an hour. However, if you want to spray paint on the vehicles —which is highly encouraged—you should plan to spend more time at this attraction.
If you spray paint a car, be sure to take pictures of it as your art might be gone by the next day, covered by someone else's work!
You can find the Cadillac Ranch on the south access road of I-40, east of the Arnot Road exit. There is no parking lot, so visitors park in the grass along the road. While you can spot the cars from the road, you need to walk about 200 yards to get to them. (Which might be muddy if it rained the day before.)
Cadillac Ranch is open all year long, and admission is free of charge.
Looking for a place to stay near the Cadillac Ranch? Drury Inn & Suites has stellar reviews, and guests rave about their cleanliness and comfort.
Bruna | Maps 'N Bags
Route 66 Attractions in California
12. Calico Ghost Town – California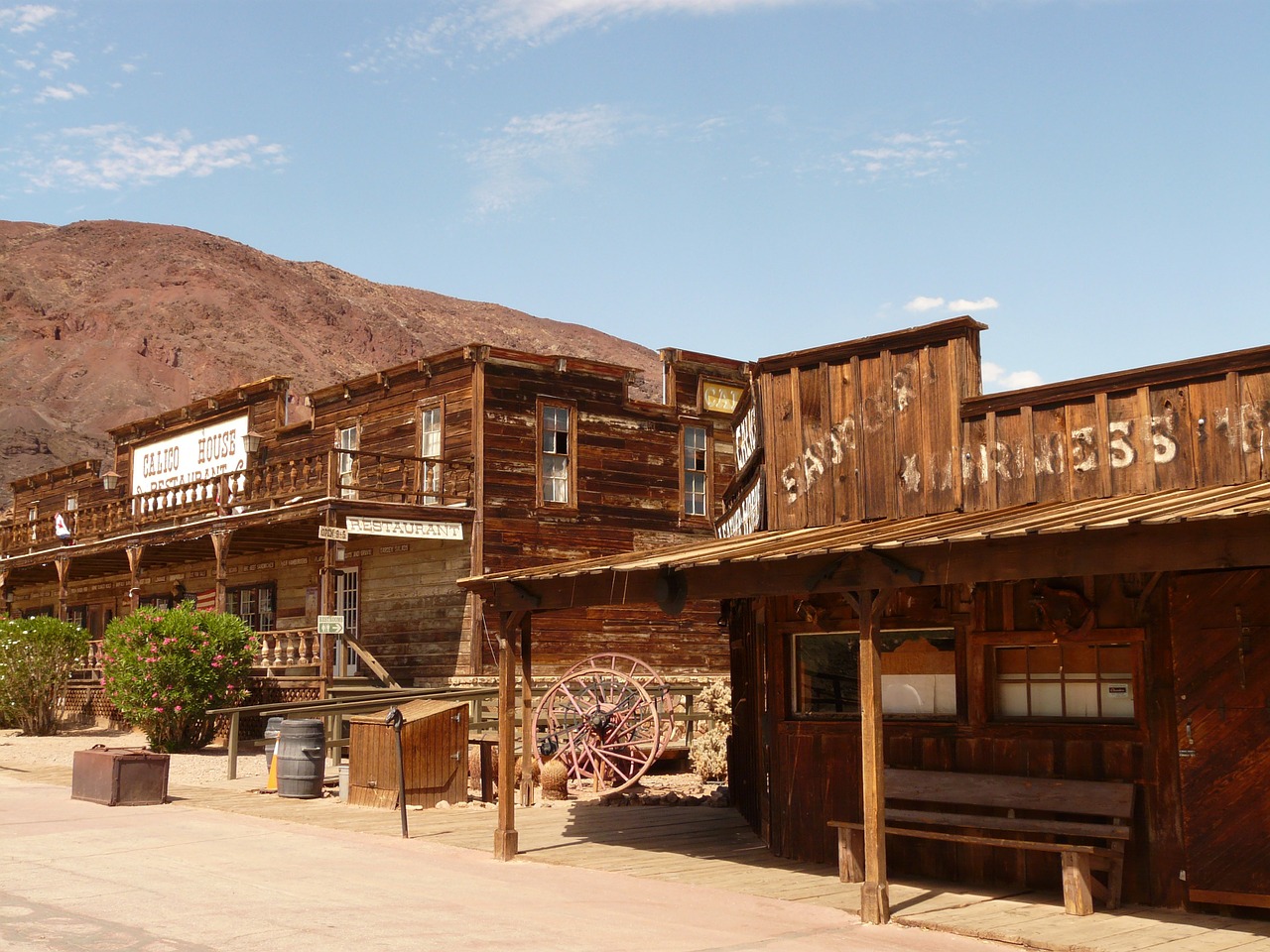 During the California Silver Rush, the town of Calico was established in 1881 in the Calico Mountains. It was once thriving with 1,200 people but quickly abandoned after the fall in prices of silver. Now, it's a popular Route 66 attraction to discover the ghost town.
Calico Ghost Town was restored to its original appearance to give tourists a chance to walk through an authentic old-Western town. You'll see notable buildings like the post office, saloon, homes, and the schoolhouse.
The entire town of Calico is designated as a historical landmark and an official county park. The park experience requires an entrance fee and has several fun attractions. Take one of the mine tours or see some of the live event reenactments in the town streets.
13. The World's Tallest Thermometer – Baker, California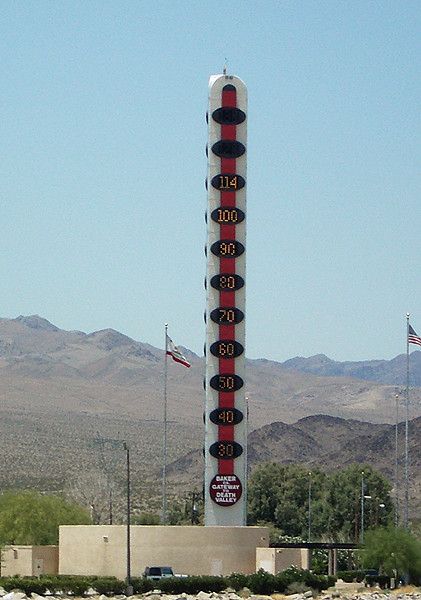 Flickr/Matt
Just south of Las Vegas along Interstate-15 sits the desert town, Baker, California. And while Baker is no more than just a pit stop for travelers who traverse between Las Vegas and Los Angeles, the town boasts the world's tallest thermometer that can be seen miles away along the interstate.
When you park your car and walk toward the thermometer, you will find a mini-exhibit that tells you what temperature you need to fry a couple of eggs in a pan. Also nearby, you will find a small gift shop where you can find all sorts of souvenirs, trinkets, and memorabilia related to this iconic Route 66 stop.
This prominent landmark was commissioned by a local business owner, Willis Herron, who came to love Baker. The sign, however, was shut down multiple times as electric bills became too costly. But today, the World's Largest Thermometer is back in service, and if you come here in summer, you will have a chance to see it showing above 100 degrees Fahrenheit, a standard for summer months in the Mojave Desert.
The World's Tallest Thermometer is 134 feet (41 meters) tall and has the highest mark of 134 degrees Fahrenheit that commemorates the hottest ever temperature recorded in the nearby Death Valley National Park in 1913. Baker is considered a gateway to Death Valley, and here you can get gas and grab some delicious food before hitting the road again.
While Baker doesn't have any hotels, you can find accommodations in nearby Tecopa and Shoshone if you continue north toward Death Valley or in Jean and Primm if you continue toward Las Vegas along the interstate.
Daria Bachmann | The Discovery Nut
14. Route 66 End of the Trail Sign – Santa Monica, California
Flickr/Colin Zhu
Stretching across the United States, the nearly 4000 km of Route 66 either ends or begins at the edge of LA's Santa Monica Pier. The old-world charm is definitely worth a linger.
Santa Monica Pier is a Los Angeles icon and, like much of LA, it seems, is a movie star in its own right. It has been a feature in movies since 1914, including Forrest Gump, Beverly Hills Cop, Rocky III, and Titanic. It is instantly recognizable to any fan of the television show Baywatch or popular music videos.
It is hard to resist the allure of stepping onto the pier and feeling as though you have stepped back in time with the backdrop of the Pacific Parks roller coaster and Ferris wheel on the pier. A walk to the ocean at the end of the pier reveals the true extent of its size, so long that it allows multiple musicians to busk along it and not interfere with the sound of others. The lamp posts along the fence add to the old-world charm and offer great opportunities for black and white photography.
Fans of the movie will undoubtedly jump at the chance to eat at Bubba Gump situated on the pier, but there are plenty of choices nearby, especially for seafood lovers. There is also a large shopping center a short walk from the pier, and hotel options are plentiful along the beach line, including hostel choices for the budget-conscious traveler. The Marriot and Loews Santa Monica are 4-star hotels that are a short walk away.
Holly | Globeblogging
Route 66 Attractions in Illinois
15. Route 66 Hall of Fame Museum – Pontiac, Illinois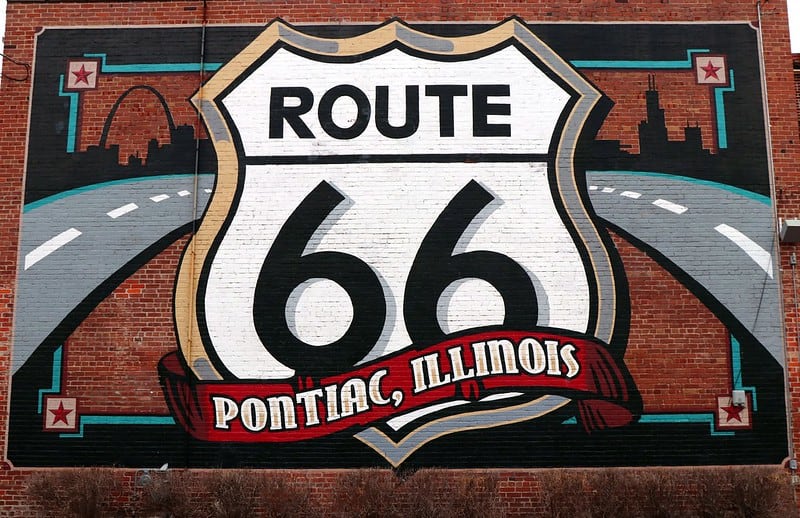 Flickr/Prayitno
There are several museums along the Historic Route 66 dedicated to the 'Mother Road.' Route 66 Hall of Fame Museum, however, is one of the best museums. Located in Pontiac, IL, it's a large museum highlighting much of the route's heritage.
Route 66 Hall of Fame Museum is established in a former firehouse. Some of the main attractions are the exhibits about Bob Waldmire, a famed artist known for his work on the route. He created unique maps and murals, which are displayed in the museum. It also has his converted school bus vehicle where he lived.
Exhibitions are displays across multiple floors. You'll get to see lots of memorabilia, vintage signs, and other artifacts.
16. The Gemini Giant – Wilmington, Illinois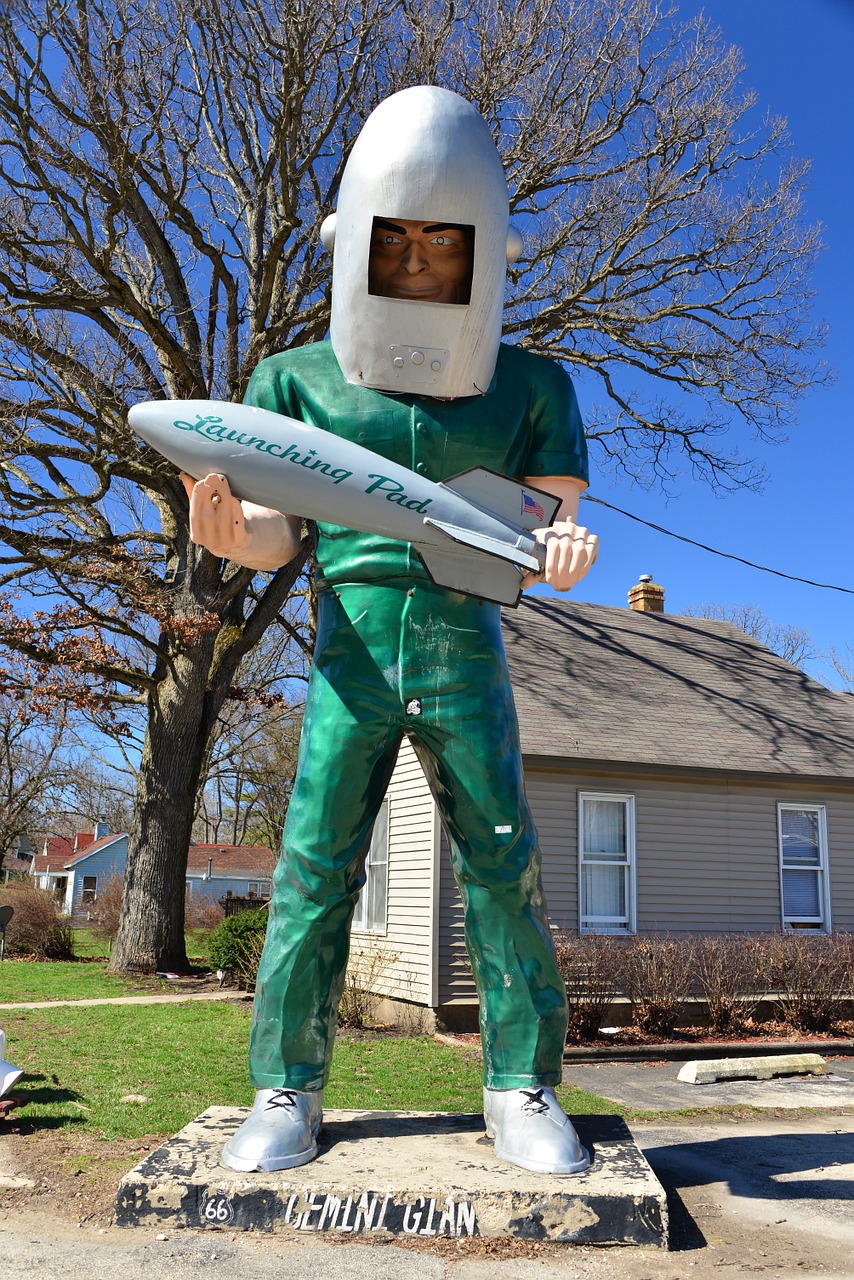 Out of all the exciting sights you'll encounter, the Gemini Giant is one of the quirkiest things to see on Route 66. Located in Wilmington, IL, the gigantic statue is a unique sight standing proud outside of a local restaurant.
The Gemini Giant is a 30-ft Muffler Man statue outfitted for space exploration – he's holding a rocket ship and has an astronaut helmet. The name comes from the Gemini Space Program.
The statue is right outside of the Launching Pad restaurant, renamed after installing the statue. The Gemini Giant goes perfectly with the space-themed restaurant. Many people driving along the route stop by the statue to take photos and grab a bite to eat at the drive-through restaurant.
Route 66 Attractions in Arizona
17. Sultana Bar – Williams, Arizona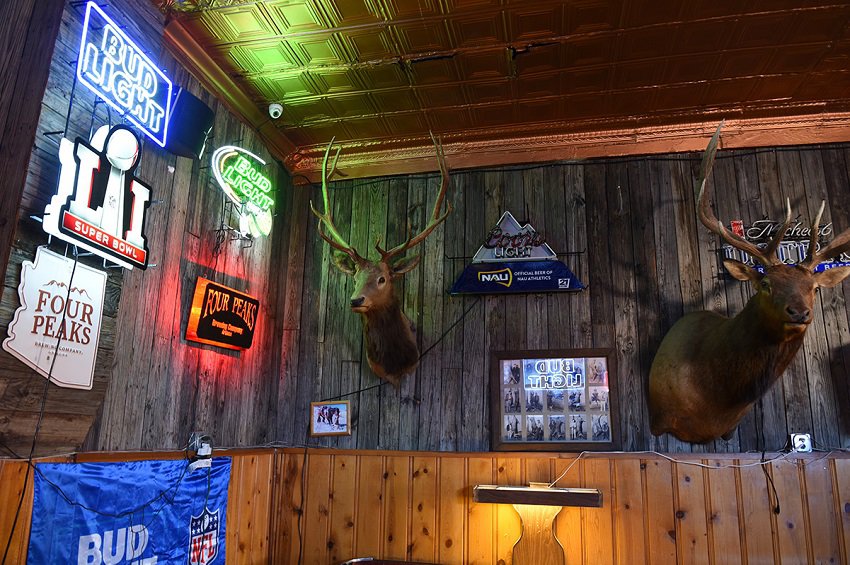 Williams is one of the most picturesque towns on Route 66 in Arizona. A great Route 66 attraction to visit in the town is the historic 'The World Famous Sultana Bar', where you can stop for delicious cocktails or beer. The pub is open daily from 10 am till 2 pm.
This Bar was opened in 1912. So, it was 14 years before the historic highway 66 on which it stands. During prohibition, the basement provided bootleg liquor and gambling by invitation only. There was also a dark passageway in the Bar, which brought to a theater that screened silent films before World War I. Now the theater operates as a special events hall. The colorful neon with a martini glass still attracts attention and invites to come in for a drink. Furthermore, they still offer fantastic Cocktails and Beers.
After more than 100 years, the place has an amazing, slightly mysterious atmosphere. The wooden interior is full of darkness. Dimmed lighting means that even if you enter during the day, you can get the impression that the evening has already come. A huge wooden bar with hundreds of bottles full of color liquors encourages to take a seat. Usually, locals hang out at the bar, relaxing after work with a beer. They watch matches and are eager to talk because not much is going on in the town. On the walls, there are stuffed deer heads and old photos. Pool tables occupy the center of the main bar. There is also a jukebox next to the wall. 
Williams is a gate to Grand Canyon, so it's a perfect place for staying overnight if you plan to visit Grand Canyon South Rim. 
There is a wide selection of lodging in the town. Great accommodation offers Grand Canyon Railway Hotel and Best Western Plus Inn.
Agnes | The Van Escape
18. Lowell Observatory – Flagstaff, Arizona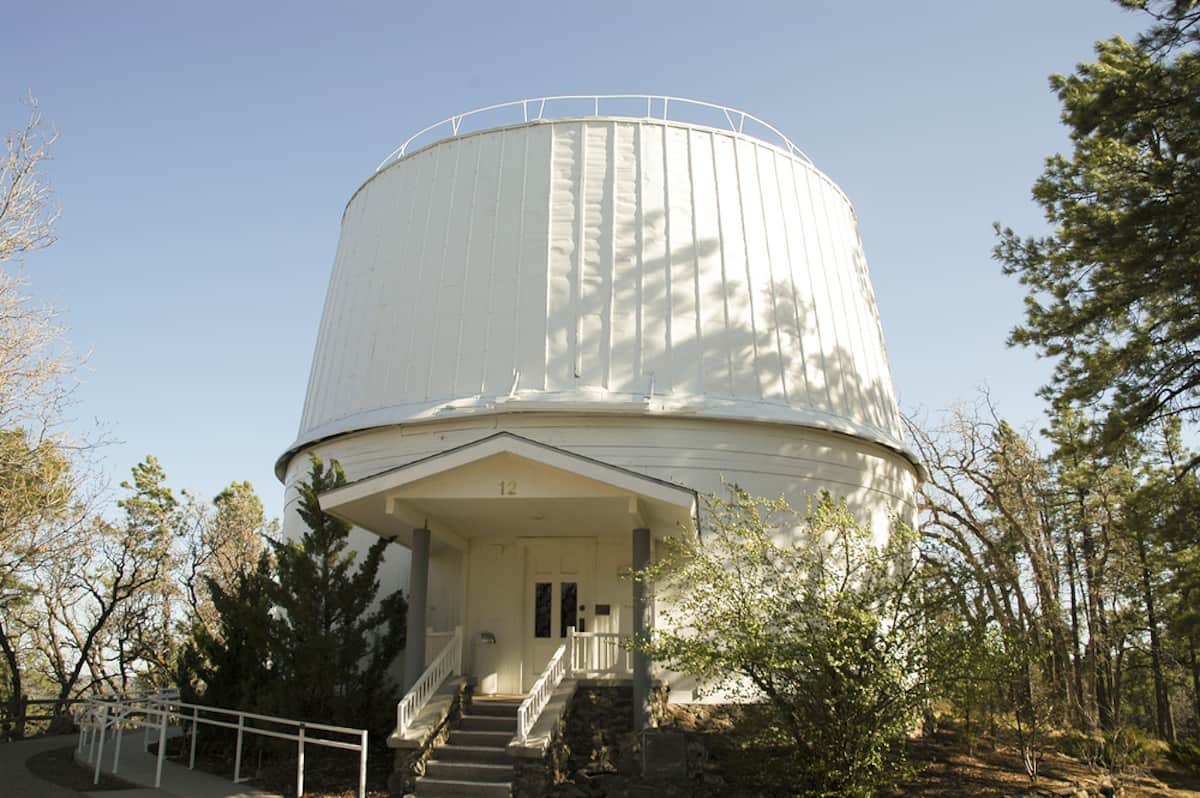 One of the biggest and most popular cities to stop at along Route 66 is the cool city of Flagstaff, Arizona: it's a must on an Arizona road trip. Flagstaff has a plethora of awesome things to do, from hiking in lava tubes in Sunset Crater Volcanic National Monument and trying the local craft breweries, but one of the most interesting things to do — especially if you're interested in our universe — is check out the Lowell Observatory.
This is not just your average planetarium and observatory! Lowell Observatory is actually the location where the once-planet (now officially a dwarf planet) Pluto was discovered by astronomer Clyde Tombaugh in 1930. As a result, it's a famous location amongst star-gazers and amateur astronomers interested in looking at the stars while they travel. 
There are several different ways to experience the observatory, but one of the most interesting is getting to use their most famous telescope, the Clark Refractor, which dates back to 1896 before Arizona was officially a state. This telescope is part of astronomy history as well: it was where scientists first realized the universe was expanding, and it was where NASA astronauts planned their moon mission before launching.
You can check out this telescope alongside science educators and ask them all sorts of questions about the devices you see and the planets and bodies they can detect. There is also the Giovale Open Deck Observatory, an outdoor observatory area with six telescopes of different types, which visitors can use to discover various aspects of the universe. There are also exhibits and other incredible things to learn at this wonderful Route 66 attraction, so stay the night in Flagstaff and discover the city after dark!
Stay the night at the Flagstaff Hilton Doubletree, an affordable and comfortable option right in downtown Flagstaff not far from the observatory.
Allison | Eternal Arrival
19. Standin' on the Corner Park – Winslow, Arizona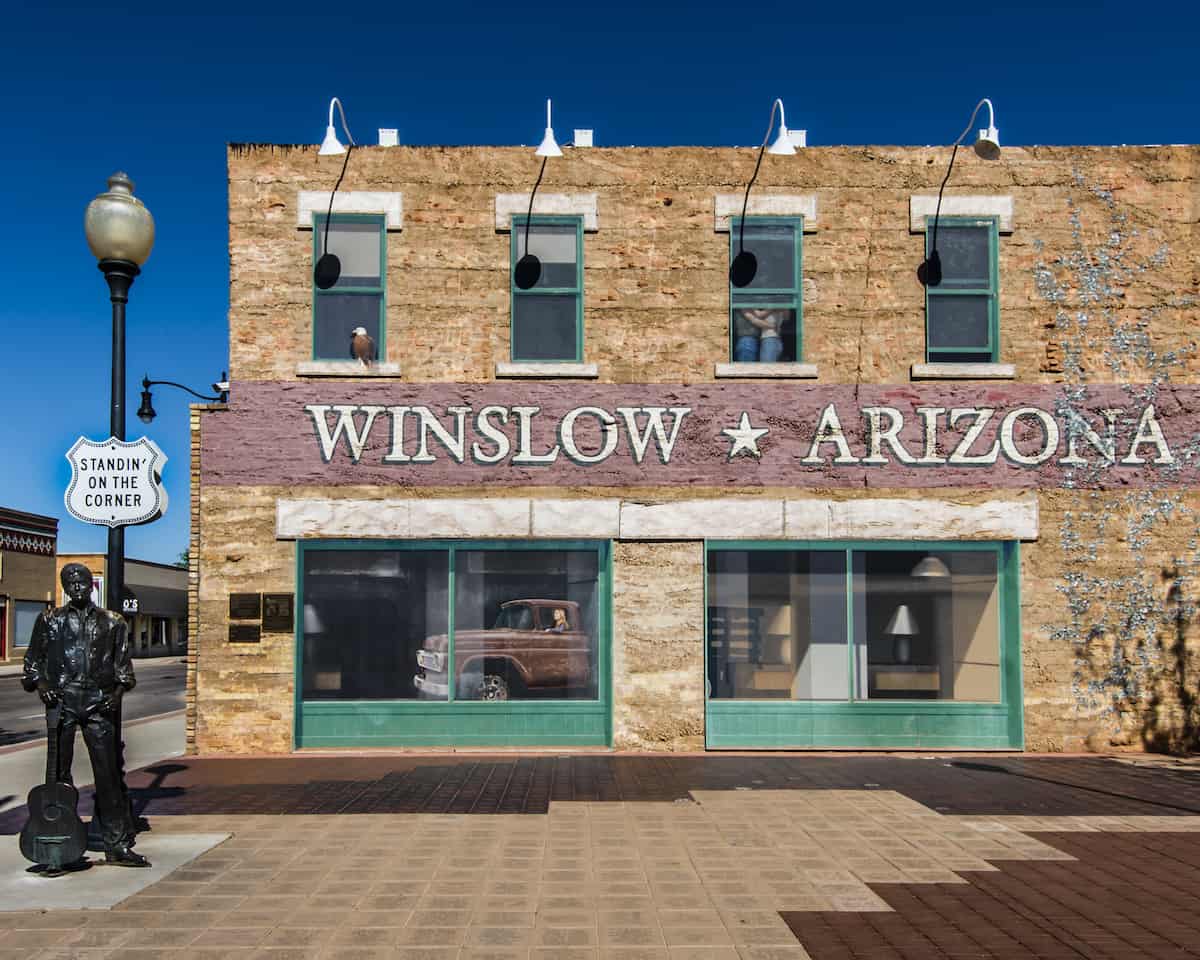 One of the best stops along Route 66 is Standin' on the Corner Park in Winslow, Arizona. This public park and statue dedicated to a very popular song that embraces Americana was opened in 1999 in the town of Winslow. The song that inspired the park was 'Take it Easy' by the Eagles, which dates all the way back to 1972. There is a lyric in the aforementioned song that says 'Standin' on the Corner in Winslow, Arizona', and the unassuming Arizona town was made somewhat famous overnight.
The park took years to build, and it wasn't built without any purpose, in fact. Winslow used to be the most populated town in northern Arizona and definitely a must-stop on a road trip on Route 66 when in Arizona. However, once Interstate 40 was built north of Winslow, tourism dried up, and the town fell into a depressive state.
In 1999, 'Standin on the Corner Park' aimed to solve that problem, hoping that building a park and statue to a famous lyric and piece of American music history would attract some of the tourism dollars back that had quickly drifted apart from the city.
The park was initiated by a local group who tried capitalizing on a song lyric. There is a bronze statue wearing clothes from the 1970s and a mural on a brick wall behind him. The entire song comes to life in the blink of an eye but in a way that breathed new life into this Arizona town. Now, the park is a famous Route 66 attraction, and the city has experienced a rebirth in tourism. Winslow, Arizona, is definitely a place to add to your Arizona bucket list.
Megan Starr | Megan & Aram
20. Havasupai, Arizona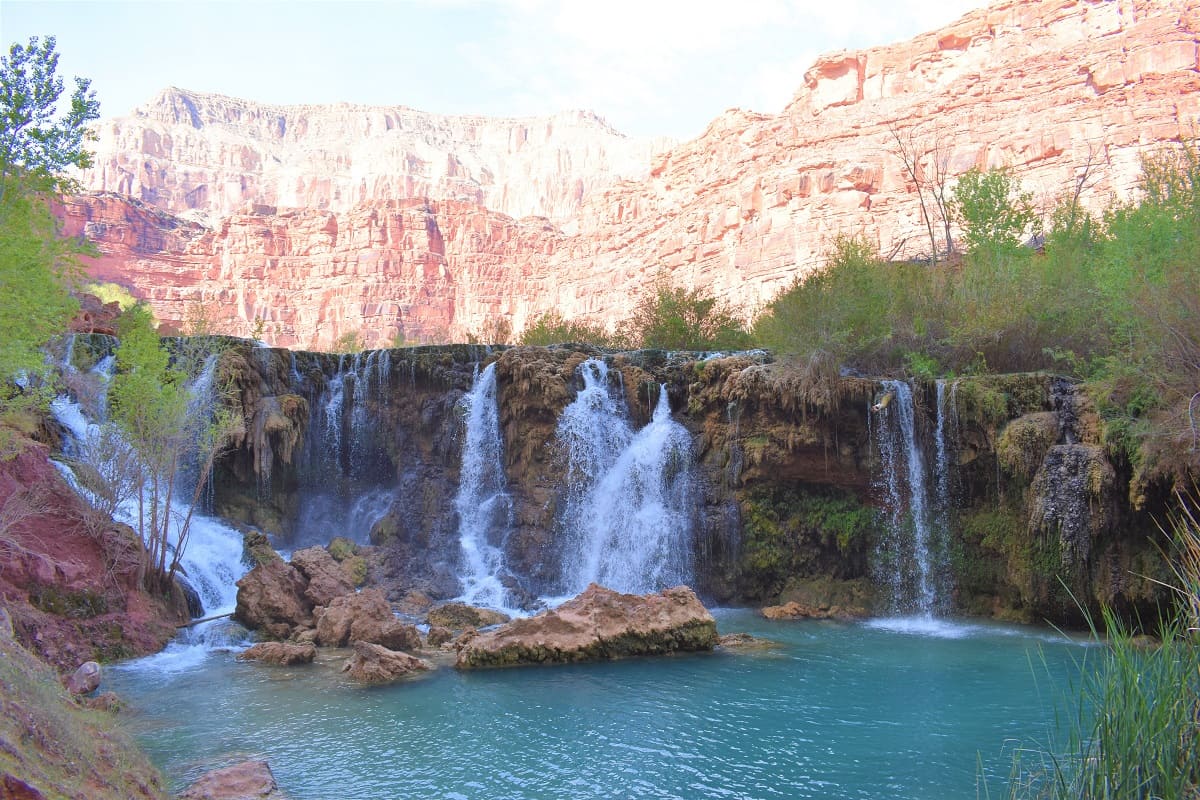 It isn't a road trip without a detour or two! As you leave Kingman toward Flagstaff, you will approach the Havasupai Reservation, home to some of the most beautiful and exclusive waterfalls in the USA. However, in order to see the waterfalls collectively referred to as Havasupai Falls, you will need to get an overnight permit to Havasupai Falls because day trips in and out of the canyon are prohibited.
If you manage to snag a permit, which goes on sale on February 1st for the entire year, you have a few options to get down into the canyon. The most common method is to backpack down the canyon and into the town of Supai; however, that includes a 10mile (16km) one-way hike. Though, for anyone less comfortably with a mini-trek, you can also take a helicopter ride to Supai for an extra expense.
Once you get into the small town of Supai, you can book a stay at the only hotel, Havasupai Lodge, or "rough it" in the outdoors at the beautiful campground. Once you're in Supai, the thing to do is the hike, of course! Havasu Falls is the most iconic waterfall, but hiking the trail to see all four of the Havasupai Falls is a whole day excursion.
Take a swim in the crystal turquoise waters and relax in a hammock as the sunsets. Since Havasupai Falls is located on a Native American Reservation, you are supporting the local Indigenous community and their fight to reclaim their occupied land. Plus, visiting Havasupai is a relaxing green escape in the middle of the Route 66 desert. You'll need this nature recharge. 
Kay | The Awkward Traveller
21. Kingman to Seligman – Arizona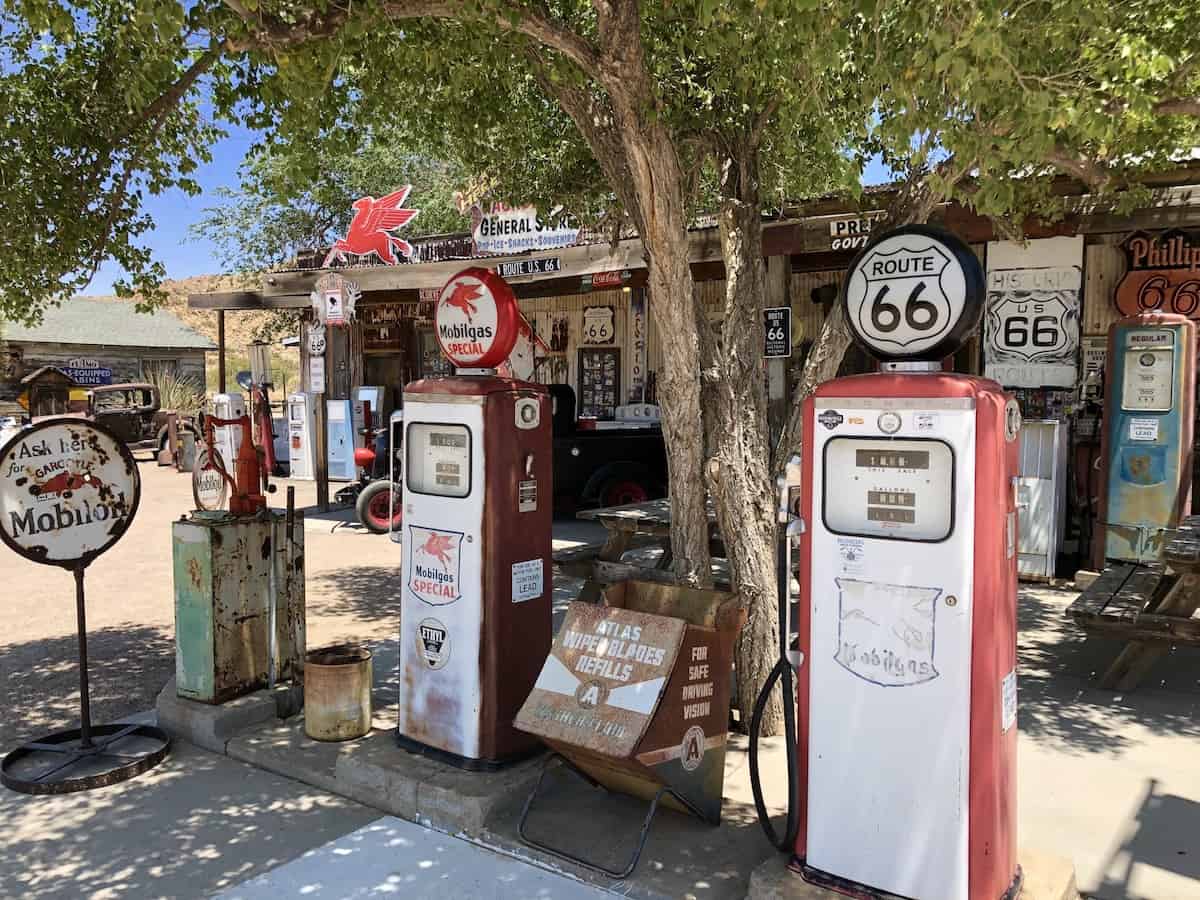 Route 66 is America's 'Mother Road', one of the original cross-country routes that helped form the road trip culture of today.  There is one section of Route 66 near Las Vegas that allows you to get a real taste for road trips of old – the byway between Kingman and Seligman.  With kitsch-filled roadside attractions like the Hackberry General Store, this 140km section of Historic Route 66 will be a nostalgia trip for anyone who drives it.
This 140km section of Route 66 takes you north off Interstate 40 at Kingman, up towards the Hualapai Reservation.  Stop for a roadside break at Hackberry, where you can take photos of the vintage cars and petrol pumps and purchase your requisite Route 66 souvenirs.
At the end of this byway, before you re-join the interstate, the town of Seligman shines like a brassy roadside siren.  Home to the Seligman Depot, a fake pioneer style village, and the Roadkill Cafe, Seligman is a hilarious must-see stop on Route 66.  The Roadkill Cafe has an amusing by-line – "You kill it, we grill it" (joke) but also serves 'normal' food like French dip sandwiches, steak, and burgers!
There are a number of traditional roadside motels in Seligman, each selling their occupants the dream of a bygone era when the motorcar opened up the world to many.  Only 2 hours from Las Vegas, if you want to get a taste of Route 66, then this section between Kingman and Seligman is a very accessible and very fun piece of history.
Hannah Henderson | HH Lifestyle Travel
Route 66 Attractions in Missouri
22. Old Chain of Rocks Bridge – St. Louis, Missouri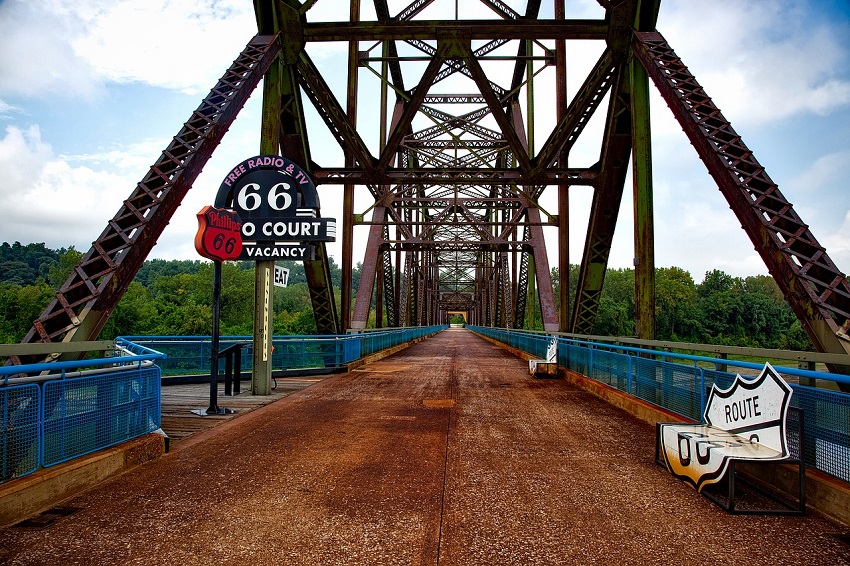 If you are doing a trek along Route 66 or "The Mother Road", a stop at The Old Chain of Rocks Bridge is a must. Spanning across the Mississippi River, its eastern end is in Illinois, while the western end is in Missouri.
The bridge was originally a motor route and was being used to cross the Mississippi River. But now, it is one of the world's longest pedestrian/ bicycle-only bridges.The first part of the bridge is surrounded by trees, so it takes a few minutes to get out over the river. And the most notable feature of this bridge is its 22-degree bend that occurs in the middle of the crossing. You will need to walk almost two-thirds of the bridge to get to this unique 'bent' in the bridge, but it is totally worth it.
From there, you will have a great view of St. Louis and the Gateway arch while the river flows below you. And if you visit in the morning, you will see a lot of water birds. 
If you are a photography buff, you will have the opportunity to get some great pics from lots of different angles. 
Note that the Missouri side has been closed for a while. There are ample signs pointing to the bridge on the Illinois side, and there is parking right next to the bridge. The parking lot is a 30-minute drive from St. Louis.
If it is hot, take water with you. There is no shelter on the bridge. And, the bridge is open dawn to dusk approximately. 
The Extended Stay America in St. Louis is a great place to stay. 
Deb | The Visa Project
Route 66 Attractions in Kansas
23. Baxter Springs Vintage Gas Station / Visitor Center – Baxter Springs, Kansas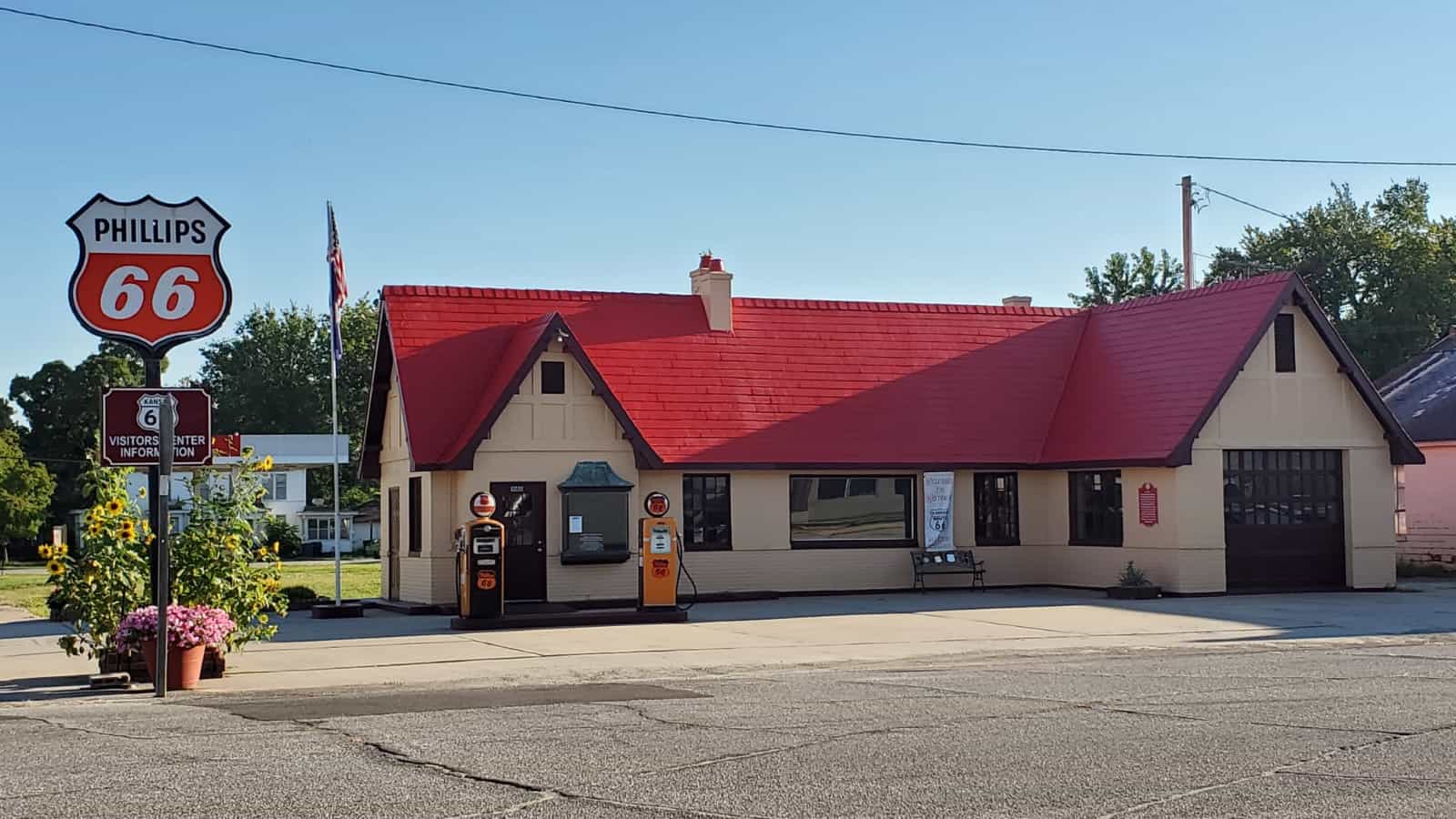 When it comes to the best road trips in America, few are as popular as the Mother Road. While the length of Historic Route 66 in Kansas is just a little over 13 miles, it has many unique attractions. The road passes through the southeastern corner of the state and one of the must-visit Route 66 attractions includes the Baxter Springs Kansas Route 66 Visitor Center. The Visitor Center is located inside a vintage Phillips gas station and is iconic in the area.
The Phillips gas station was constructed in the 1930s and has striking Tudor cottage style architecture with a lively red roof. The gas station is still very well preserved and a delight to see. It is on the National Register of Historic Places and has been converted into a museum. It is open in the popular summer travel season from March to November.
Outside the historic building, visitors can see two vintage style Phillips 66 gas pumps. It is fun to see their unique design and bright colors. Inside the center, you can see messages and signatures of thousands of Route 66 road trippers. There is also a gift shop inside the center where you can purchase souvenirs. Make sure to visit this unique attraction on a Route 66 road trip.
Ketki | Dotted Globe
What's your reaction?
0
Cool
0
Bad
0
Lol
0
Sad