During its heyday, Historic Route 66 was a haven for foodies – the entire route was lined with small-town diners that served up the best food in America. While the road is no longer a major route, travelers can still feel a bit of nostalgia by stopping by one of the famous restaurants in Santa Rosa.
Santa Rosa is a melting pot of American and Mexican cultures. The region is diverse with families from both backgrounds, which is only good news for people looking for delicious food to eat when passing through town. As different as both styles of cuisine are, they still have one thing in common – a love for spicy food.
Spicy food is a staple in both American and Mexican cuisines, so it's only right that you'll taste the best of both worlds at the local restaurants. Some of the must-visit restaurants for spicy eats and treats include:
Joseph's Bar and Grill
Comet II Drive-In
Both restaurants are rooted in the history of Route 66, but the kitchens never stopped serving up the best in Santa Rosa.
Joseph's Bar and Grill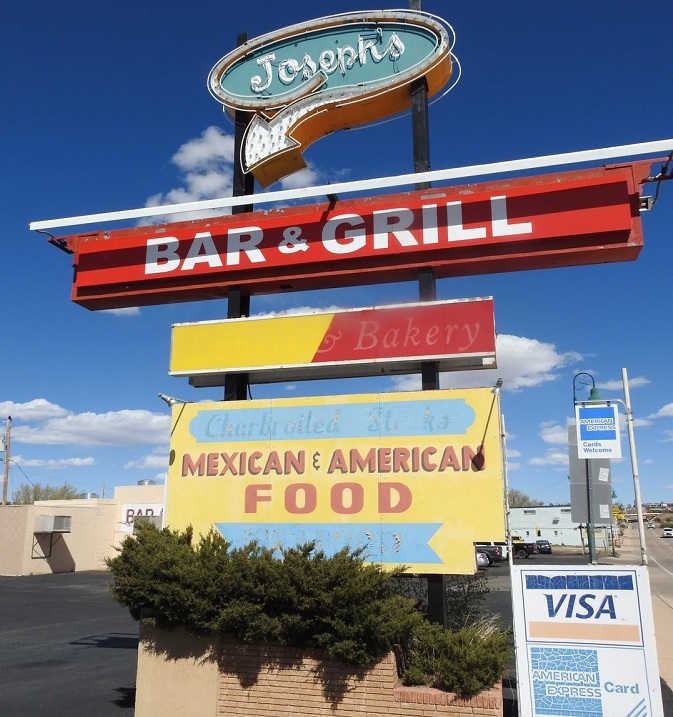 It won't be hard to miss Joseph's Bar and Grill thanks to the large neon sign in front of the restaurant. Many of the former diners along the route featured the iconic signs to get hungry drivers to pull over for a bite to eat. Today, the sign is only the beginning of immersing in the retro 50's diner.
Joseph's Bar and Grill preserved its vintage ambiance with everything from friendly service to vintage dining booths. It serves the best Mexican food and All-American dishes in Santa Rosa.
In fact, it's become a famous tourist destination in its own right because of the delicious food and an atmosphere that takes travelers back to when Route 66 grew to fame.
The restaurant is family-owned for over 60 years, so much of the original appeal is still present. When you visit, be sure to try what's considered the best fajitas in New Mexico. And if you're not driving, indulge in a tasty margarita or cold beer.
Before you leave, stop by the restaurant gift shop to pick up a few memorabilia items. It features lots of souvenirs for Route 66 and merchandise featuring its iconic logo. Everyone will know where you've been once they see the "Fat Man" on your hat and shirt.
Comet II Drive-In
Comet II Drive-In was the perfect place for drivers on the go. Founded in 1927, it provided drivers with the option of take-out or dine-in. Both options are still available, but it's worthwhile to stop for a while and enjoy the venue.
Comet II Drive-In doesn't have all of the gimmicks for attracting hungry travelers but instead relies on delicious food to keep people coming back. If you're looking for some spicy local favorites, you've come to the right place.
Some of the recommended dishes to try include Chile Rellenos, chile Verde, and Chimichangas, or go with the classic fried chicken. Be sure to pick up an order of salsa to accompany your meal, and you won't be disappointed.
Finally
Both of these restaurants were significantly impacted after Interstate-40 was established and took traffic away from Santa Rosa. Still, their reputations remain thanks to the deliciously spicy food that you'll salivate over even before it arrives at your table.
Related Read: Best Places to Eat in Santa Rosa, New Mexico