The main reason for putting something on your feet during snorkeling or diving is as protection and prevention of cooling. You can choose between socks and water shoes, booties and diving boots. The choice will be determined by the temperature of the water, the subsoil, and the type of fins.
We recommend the following products from Amazon:
Socks and water shoes
Water socks or shoes are generally sufficient for recreational snorkeling in warm water. Water socks especially increase comfort when using fins. With the use of socks, the entrapment of the roadside of the fin is not felt and blisters are avoided. If your feet usually get cold quickly, the use of water socks can help. They also give some protection.
Do you want to buy water socks? These thin cressi socks are made of neoprene and are perfect for putting on your fins or diving boots. They come in a universal size, for everyone.
Water shoes also called surf shoes, gained popularity in recent years to wear on the beach. They often offer excellent protection against shells and rocky soil. This is mainly due to the sole, which is available in different thicknesses. The use of "normal" water shoes in combination with fins is not recommended. If you want to wear good shoes on your fins it is better to wear booties or diving boots.
The thin water or beach shoes, which can also be used for diving, are the Cressi Nouema. They are made of durable neoprene and are available in various sizes. The Cressi Nouema has a sole of a non-slip material with a high coefficient of friction. They are also easy to apply and remove.
Diving booties and boots
Escarpines and diving boots (also called booties or neoprene boots) basically designed to be used with adjustable fins. There are different types available, distinguishable in length (high or low shoes), material thickness (or rather, thermal properties), and are fitted in a single gesture or with a zipper. There are booties and booties with a flexible or rigid sole. The solidity and thickness of the sole is an important feature to consider when buying. Heel and ankle support are also important with all those heavy pounds you carry. Most booties and booties are made of a combination of neoprene rubber and nylon.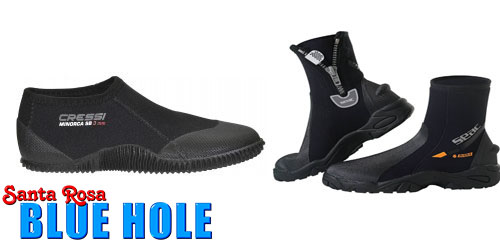 The low models (below the ankle), flexible and thin (up to 3 mm) are used for snorkeling and diving in warm waters (more than 24 degrees Celsius). The taller (above the ankle) and thicker models (4 mm and more) are used in colder waters.
As a guide, you can follow these temperatures in relation to the thickness (obviously it also depends on your personal preferences.
1 mm – 2 mm – 24 degrees Celsius and more;
3 mm – 21 to 27 degrees Celsius;
4mm – 5mm – 16 to 21 degrees Celsius;
6 mm – 7 mm – 10 to 16 degrees Celsius.
Tall models are generally more expensive than shorter models. Of course, both models can be used in combination of water socks.
Tips:
– Buy your booties at a dive shop (or online if you are sure of the size).
– Wear the diving fins when you are going to try the booties.
– Water shoes, booties and diving boots should fit well to the foot. No open spaces!
– Wear your diving suit on top of the diving boots.
What's your reaction?
0
Cool
0
Bad
0
Lol
0
Sad